Keep It Simple
My Favorite Fix: Gamer Shuts Off Services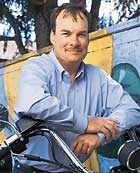 The Annoyance: I'm a gamer, so performance is very important to me. Unfortunately, when applications or services start running while I'm playing something, they can kick me out of the game and cause network lag.
The Fix: I use a batch file to turn off a bunch of services all at once that would cause interruptions. I stop services like Automatic Updates because it could search for or start downloading an update while I'm in the game, and that would affect my network performance. I also turn off my antivirus utility because sometimes the antivirus update will start up while I'm in a game, and if it does, it kicks me out of the game. But I need some of these services, like Computer Browser, in order to connect to my office VPN, so I have another batch file I use to turn those services back on when it's time to get back to work. (For a sample batch file that turns off unnecessary services, click here.)

Amazon Shop buttons are programmatically attached to all reviews, regardless of products' final review scores. Our parent company, IDG, receives advertisement revenue for shopping activity generated by the links. Because the buttons are attached programmatically, they should not be interpreted as editorial endorsements.