capsule review
Envision EN7220
At a Glance
Envision Peripherals EN-7220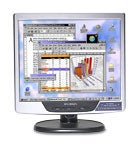 The Envision EN7220 comes with lots of little extras: side-mounted accessory cups, clips for attaching photos, and a raised lip on the base that lets it double as a trinket tray. The monitor is highly adjustable, too, with tilt, height adjustment, swivel, and pivot capabilities. Though its silver bezel and accessories look attractive against the black cabinet and base, the EN7220 feels rickety during pivoting, and its lightweight plastic accessories feel flimsy. Text was legible, but colors looked dull, and the screen appeared dim. A significant drawback is Envision's stingy 8-hour weekday tech support. The EN7220 carries an appealingly low price tag ($430 at the time of testing), but other monitors deliver better image quality and more support for even less.
Clever add-ons can't make up for the Envision EN7220's less-than-stellar image quality.
Envision EN7220
17-inch screen, 1280 by 1024 native resolution, 13 pounds, panel type not disclosed, analog interface. Three-year warranty (one year for backlight); 8-hour weekday toll-free tech support.
$430
888/838-6388
www.envisiondisplay.com
Laura Blackwell
At a Glance
Envision Peripherals EN-7220
Shop Tech Products at Amazon