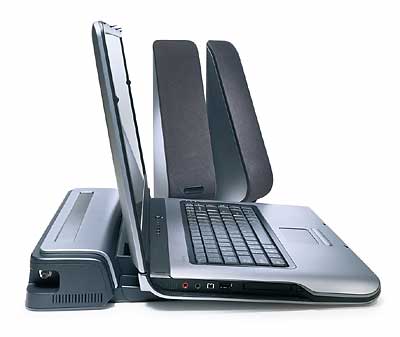 Sony's massive, 10.5-pound Vaio VGN-A190 laptop lets you watch TV, record programs, and serve live TV and prerecorded videos to other PCs over a network. But the work required to get everything working will remind you that this is indeed still a computer.
The $2799 Vaio has a docking station with TV tuner and coax input; you can't watch TV unless it's docked. Install an app on a remote PC to receive streaming TV from the laptop's tuner. But watching at full screen put a drain on my PC's 2.4-GHz P4 processor, making other applications run slowly on my second monitor. At least this laptop is fast, earning a WorldBench 5 score of 81--very perky performance, even for such a muscular portable.
The VGN-A190 relies heavily on home networking, but the wireless function on the unit I tested was flaky. My connection alternated between excellent and nonexistent, causing the streaming app to grind to a halt or even crash. In fact, after one particular crash, remote TV streaming refused to work again.
As a regular notebook, the VGN-A190 is impressive. But the fun stuff should be more fun to use.
Shop Tech Products at Amazon