Personal Finance Goes for Convenience
At a Glance
Intuit QUICKEN 2005 PREMIER-SMALL BOX

Microsoft Money Deluxe 2005
The annual updates of Microsoft Money and Intuit's Quicken once again reach out to new users seeking help managing their finances. I tried shipping versions of Money 2005 Premium and Quicken Premier 2005 (both $80). Either will please newcomers, but neither is an essential upgrade for owners of recent versions--with the possible exception of Money customers seeking super-easy access to their accounts online as well as via the desktop app.
That's because Money 2005 has automated synchronization of account data in the desktop with a Web-based MSN Money account. Entries in the desktop software appear automatically online (and vice versa), a huge convenience for people who want to manage finances from different locations via a browser--and don't mind storing their financial data on Microsoft's servers.
The Web synchronization worked fine in my tests, but note that to use it you need a .Net Passport from Microsoft. Also, Microsoft requires that you upgrade Money every two years to continue using any of its online services. If you don't upgrade, you won't be able to download transaction data from banks or other institutions--a big drawback.
As usual, Money comes in four flavors: the $30 bare-bones Standard edition; the $60 Deluxe version with planning tools; the $80 Premium version that adds extra investment tools to Deluxe; and the $90 Small Business edition for those who mingle personal and small-business accounts.

To make the program less intimidating, Money's register now shows, by default, only check number (where applicable), payee, date, amount, account balance, and whether or not a transaction has been reconciled. For users who want it, the traditional advanced view, which shows categories and memos, is still available.
Quicken Evolves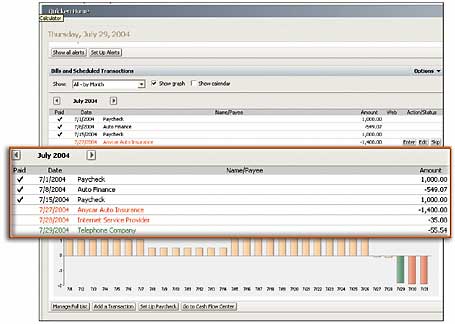 The changes in Quicken are less dramatic. The major innovation is on the home screen's list of upcoming bills, which now includes scheduled deposits and a running balance meant to show you if you'll have enough money for all your payments. This isn't a bad idea, but since the list doesn't show nonbill expenditures such as cash withdrawals, balance estimates are only approximate at best.
Other tweaks: Quicken can now memorize rules to turn cryptic payee names in downloaded records into ordinary English (E BAUER*51590045 becomes Eddie Bauer, for example). And another step toward ease of use lets you make drop-down category lists less unwieldy by concealing categories you rarely employ. Handy new tools for filtering and finding entries include the ability to assign colored flags to your transactions.
Quicken's versions--the $30 Basic, $60 Deluxe, $80 Premier, and $90 Premier Home & Business--correspond roughly to Money's. Intuit won't say how long it will support Quicken's online services.
Microsoft Money 2005
Worth the upgrade if you want automated Web synchronization.
Street: Premium $80
Current Price (if available)
Intuit Quicken 2005
Welcome but hardly essential tweaks improve a solid performer.
Street: Premier $80
Current Price (if available)
At a Glance
Intuit QUICKEN 2005 PREMIER-SMALL BOX

Microsoft Money Deluxe 2005
Shop Tech Products at Amazon