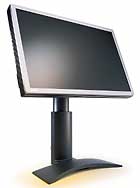 Benq's 23-inch wide-screen LCD monitor--the new FP231W--makes an impressive desk trophy. I can't tell you how many coworkers stopped by to cast covetous glances at its business-class beauty. But unfortunately, its performance doesn't live up to its great first impression.
Although the monitor's sedate charcoal-and-matte-silver cabinet looks very professional, the $1999 FP231W is clearly meant for greater things than just spreadsheets. In addition to analog and digital inputs, it includes S-Video and composite inputs. The unit's vast screen, with a 1920 by 1200 native resolution, can display several applications at once--and that isn't counting the picture-in-picture window for watching TV or videos.
However, in my informal tests of a shipping model, regular video seemed to be a little grainy and ghosty. High-definition video was sharper, but still showed some ghosting. In any application, light areas appeared shimmery and washed out, causing black text on a white background to display as less than perfect.
The FP231W offers some nice features. For example, unlike most 23-inch models it can swivel from side to side as well as tilt. Even when I raised the monitor several inches on its base, it felt stable and well balanced. Sadly, such fancy features don't overcome the unit's iffy image quality.
BenQ FP231W
Good looks and nice features don't compensate for giant-size LCD's less-than-stellar display.
Street: $1999
Current Price (if available)
At a Glance
Good looks and nice features don't adequately compensate for the FP231W 's less-than-stellar display. Read the full review

Cons

Spidery text, lackluster graphics
Pricey
Shop Tech Products at Amazon