Gigabit Switches Supercharge Networks
At a Glance
DLink 8port 10/100/1000 Gigabit Switch Desktop

EGig EG86-Z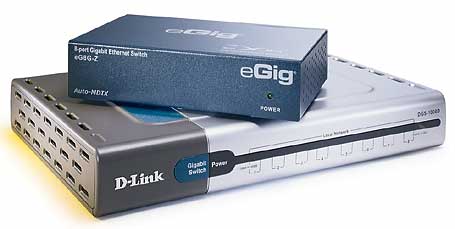 A network is only as fast as the sum of its parts. If you've recently updated your PCs' network adapters from standard 10/100 ethernet to gigabit, you'll need to upgrade your network switches to take advantage of the faster technology. I tested two new eight-port gigabit switches, and both performed well--though one seems a tad overpriced.
I tried out D-Link's DGS-1008D($100) switch and EGig's EG8G-Z ($199) switch--both with eight ports--on my small home network consisting of PCs using integrated and PCI-based gigabit adapters and Cat 5e cable, which supports transfers of up to 350 megabits per second. I used Ixia's Qcheck network troubleshooting utility to test performance and found that each switch supported average upload speeds of about 250 mbps--more than three times faster than the same network using my old 10/100 switch. Downloads were equally impressive, with both gigabit switches supporting average download speeds of 275 mbps versus about 86 mbps with the previous 10/100 switch.
When I retested the switches using the more common, less-expensive Cat 5 cable (which is rated to 100 mbps), I saw about a 15 percent improvement over the speeds realized using the 10/100 switch and the same cable.
Though the EGig targets business users who want a no-nonsense box, I'm not sure the package warrants the $99 premium it commands over D-Link's more stylish device.
D-Link DGS-1008D
Well-designed, simple-to-use gigabit switch peps up a network.
Street: $100
Current Price (if available)
EGig EG8G-Z
No-nonsense, hardworking switch is a bit on the pricey side.
Street: $199
Current Price (if available)
At a Glance
DLink 8port 10/100/1000 Gigabit Switch Desktop

EGig EG86-Z
Shop Tech Products at Amazon