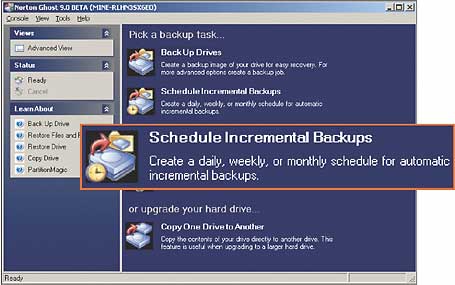 Symantec's new Norton Ghost 9 drive-imaging software makes it easier than ever to take a snapshot of your hard drive to prepare for those times when computing disaster strikes. I tested a beta version of the $70 Windows XP/2000--only application, based largely on Drive Image 7 from PowerQuest--a recent Symantec acquisition--and found that it has closed the feature gap with Acronis's competing True Image 7.0.
The most dramatic new feature in Ghost 9 is the recovery environment that appears when you boot from a CD. Gone is the confusing Ghost 2003 interface; its replacement mimics Windows exactly, right down to the Open and Save dialog boxes.
Ghost 9 can now even back up your operating system partition from within Windows (? la True Image)--no reboot required. Plus, Ghost can now create incremental images of your hard drive--a time-saver that backs up only changes (previous versions created a full image every time). Another new feature lets you schedule image backups to run in the background, as you work.
In my tests Ghost 9 proved amazingly fast at creating images, compressing and writing a 3.12GB OS partition to a 1.43GB image in only 1 minute, 21 seconds--3 minutes, 4 seconds quicker than True Image. Ghost 9 restored the same image in 1 minute, 18 seconds--about 4 minutes faster than True Image. However, booting into Ghost 9's recovery environment itself can take up to 3 minutes; the same task took about 13 seconds for True Image. My Ghost 9 beta also lacked integrated support for my Serial ATA hard drive, but Symantec says the final version will support most drives.
My only other complaints with Ghost 9: Installation requires Microsoft's .Net framework, and the package costs about $20 more than the competition. But its usability and speed improvements make it worth spending the extra cash.
Symantec Norton Ghost 9
Speedy drive imaging app performs well but costs slightly more than the competition.
List: $70
Current Price (if available)
Shop Tech Products at Amazon