Wide Screens Open for Business
Dreamy-eyed, you tick off the advantages of a wide-screen LCD monitor: oft-used programs side by side, spreadsheets and blueprints fully visible, photos and art in exquisite detail, room for as many toolbars as you want--and don't forget how great DVDs would look. There's no need to deny your dreams: Smaller wide-screen LCDs are both practical and attainable. We tested various LCDs--three 17-inch monitors, five 23-inch displays, and one 24-inch unit--and their superb quality and surprisingly reasonable prices (as low as $664 for a 17-inch model and $1599 for a 23-incher) present a far-from-harsh reality.
The extended family of wide-screen LCD monitors includes odd-size screens, such as those measuring 20 or 20.1 inches. We chose to test 17, 23, and 24 inches because those categories have the best mix of affordable products for head-to-head comparison. The 24-inch display we tested has the same 1920 by 1200 native resolution as the 23-inch models, and most testers did not discern a difference in size when the units stood side by side. One vendor not represented here is Sony; the company's most recent model available during our test period was slated to be discontinued by the time you read this story.
Why Be Open to Wide?
Although these monitors are more affordable than in the past, they aren't easy on the wallet. The 17-inch LCD monitors in our October chart averaged around $540; the 17-inch wide-screen models have averaged around $680. There's no easy regular-format comparison to a 23- or 24-inch wide-screen monitor, but this group's average price tag of $2140 is not trivial. Committing to such an outlay requires a good reason--preferably, several good reasons.
Justifications for a wide screen's higher cost are not hard to find, though. Investing in a wide-screen monitor makes good business sense for some applications. I spend a huge amount of my day in Excel using spreadsheets," says Rhoda Alexander, director of monitor research at technology analysis company ISuppli. "I need to track a lot of data across the screen. In that environment, it's a very nice format to use."
Despite the business benefits, Alexander predicts that wide-screen LCDs will edge their way into the office via the living room: "We'll see a groundswell in the U.S. market with TV viewing." With television shows like The West Wing and 24, and an ever-increasing number of DVD movies, available in wide-screen, it's easy to get accustomed to the format. "People will become more used to it for computer monitors as well," she says.
Many of the models on our chart bank on crossover appeal. Most of them accept A/V inputs like component, composite, and S-Video. Some have TV tuners, and many are HDTV-ready. Certain models come with speakers better than those usually found on monitors, but built-in monitor speakers--even with special sound functions--are no replacement for a full-fledged speaker system. For this review we evaluated entertainment functions, but we graded these models as monitors and not as TVs.
Of the smaller models, Sharp's LL-M17W1 handily won our nod for Editor's Pick, with its first-rate image quality. Impressing our jury with beautiful graphics and unparalleled text quality, Samsung's SyncMaster 243T was our Editor's Pick in the 23- and 24-inch category--even though it has few of the entertainment bells and whistles found on other models.
Small, but Broad-Shouldered
Though the Sharp earned top image-quality scores, the other two 17-inch wide screens, the LG Flatron L172WT and the Samsung SyncMaster 173MW, were not far behind, both achieving text and graphics scores of Outstanding and Very Good, respectively. The Sharp doesn't have an antiglare coating, so it may not look as impressive in bright settings.
All three models performed well in our DVD playback test, but again the Sharp proved superior to its two competitors. Oddly enough, DVDs looked better on these smaller panels than on their larger 23- and 24-inch cousins.
Each of the units comes with a built-in TV tuner and picture-in-picture display, which allows you to watch a second channel within a smaller window in the screen; the LG also includes picture-by-picture (side-by-side split screen) and picture-on-picture, which lets you watch a second channel in a smaller, uncropped window alongside a larger, uncropped main picture. Of the three, only the Sharp does not offer HDTV support.
All of the 17-inch models we saw missed an opportunity by forgoing pivot capability. Since a 17-inch wide-screen monitor's display area is only about 90 percent that of a normally proportioned 17-inch display, you want to make the most of the wide-screen format. And one way to make great use of a wide screen would have been the ability to pivot it to portrait orientation for viewing long, vertical Web pages.
Big and Beautiful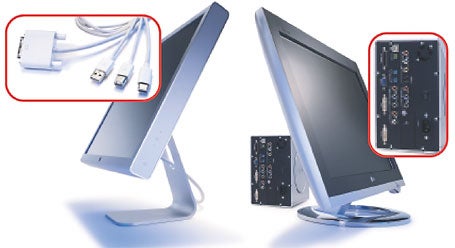 It's a good thing we examined the smaller LCDs first, because the larger wide screens spoiled us. Professional image editing programs, with their many palettes, immediately take advantage of the increased territory. But even lowly word processing documents look more distinct on a bigger screen; plus, the display's size allows you to look at two Microsoft Word pages side by side. The effect feels much like using a dual monitor setup, but without the bezel interrupting the images in the middle.
Of the five 23-inch monitors and one 24-inch screen our jury saw, most were superb at displaying graphics and text. One exception was the BenQ FP231W, whose poor color reproduction and distracting shimmer in light-colored areas kept it off the chart.
The graphics race in the 23-/24-inch category was close yet undisputable: Our jury found the lifelike colors and clean details of Apple's 23-Inch Cinema HD Display irresistible. This beauty went undefeated in its reproduction of color photos and a Web page.
In general the large size and 1920 by 1200 native resolution of 23- and 24-inch wide-screen LCDs translated to crisp, beautiful text. Though the Apple performed extremely well in these tests, too, Samsung's SyncMaster 243T won by a nose. LG Electronics' Flatron L2320A disappointed our jury with yellowed tones and indistinct text that one tester dubbed "smeary."
It Stays on the Desk
Despite their sprawling sizes and wide-screen format, these big monitors should not be mistaken for living-room TV sets. Among the 23- to 24-inch monitors, only the Apple, the LG L320A, and the Philips Brilliance 230W scored well on the PC World Test Center's DVD motion tests; and of these three, only the LG has component input. In my informal, full-screen tests conducted with a DVD of Pirates of the Caribbean: The Curse of the Black Pearl, all models but the Apple exhibited at least minor ghosting. On the HP and Samsung models, dark ropes ghosted significantly against a bright sky, and waves appeared choppy with artifacting.
That said, almost all of these monitors offer picture-in-picture ability, which can be just the thing if you need to stay tuned to news headlines while hammering away at the keyboard. In the smaller window, resolution and ghosting problems are less distracting than they are at full-screen.
Adjustments Available (or Not)
Most of these larger displays offer standard screen adjustments like color temperature and RGB control. The Apple, however, offers no adjustments but brightness--the rest are built into Mac OS X. For people who don't like fussing with controls, this might be a plus. But for the PC user who prefers a color temperature different from the default or who wants to tweak the gamma control in a game with a dark environment, it's a deal-breaker.
We had expected 23-inch wide screens to be too ungainly to offer many physical adjustments, but only the hefty, 31.7-pound LG L2320A and the perhaps-too-simple Apple pony up nothing more than screen tilt. The HP L2335 and the 24-inch Samsung 243T pivot for portrait and landscape viewing. In addition the HP and the Samsung offer height adjustment; the former's is smooth, but the latter's is rather awkward, involving a button on back of the base.
With all the inputs and ports that most of these larger displays have, cable clutter can get ugly. The Apple's integrated power/DVI/USB/FireWire cord makes a neat cabling package, and LG achieves a similar (if less subtle) effect by placing all the A/V ports on its Media Station--a separate box measuring 8 by 5 by 7 inches (width by depth by height)--and running everything to the display through a single cable.
Work, Play, or Both?
The aspect ratio of wide-screen monitors lends itself to massive programs and to entertainment, and the vast open space of a larger wide screen certainly draws admiration. People who toil over immense spreadsheets or palette-filled image editors can justify the cost of such a monitor in terms of work efficiency. But if you don't need the improved text clarity, or if you spend your workday in narrower program windows, a wide-screen display may not be the best dedicated monitor for you.
It's the multifunction capability of these monitors that will carry broader appeal. "It depends on what your budget is and how you're going to use the product, says ISuppli's Alexander. "If you have a home office and occasional need for a TV there, a multifunction display fulfulls both functions, serving as a monitor and a TV. Rather than allocating money and space to two displays, a TV and a monitor, the user can opt for a combination product that better serves both needs." Perhaps these wide-screen LCDs are expansive enough to straddle the work/play divide.
Laura Blackwell
Ask Mother When to Buy a Monitor
It all starts with mother--or in an LCD monitor's case--with the mother glass, the thin sheets of glass that manufacturers cut into LCD panels. "Panel price is a big percentage of the total cost," says Sweta Dash, director of LCD and projection research at technology market analysis company ISuppli. "It can be from 60 to 70 percent of the cost" of a typical LCD monitor, Dash says.

That cost is heavily influenced by supply and demand. Last year's popularity of LCD panels in monitors, notebooks, and TVs made panel supplies tight, driving prices higher--and that price increase caused would-be buyers to hold off on purchasing LCD monitors and TVs, according to Dash. New sizes of mother glass, in use now, will soon mean more efficient yields for manufacturers, and new fabrication facilities will mean a greater stock of panels. "In the second half of 2004, we see lots of extra capacity and increase in supply," says Dash. LCD shoppers who opted to bide their time can reap the rewards, if only for a few months. "We believe [the panel price] will reach the bottom in November. But because the panel prices are going down so fast, panel suppliers are cutting production. By the end of the year, the panels may stabilize in price." October and November look like the sweet spot to Rhoda Alexander, ISuppli's director of monitor research. "I don't think it's out of the ballpark [for prices to drop] 15 to 20 percent, and it could be more than that."