Wide Screens Open for Business
Page 2 of 3
Small, but Broad-Shouldered
Though the Sharp earned top image-quality scores, the other two 17-inch wide screens, the LG Flatron L172WT and the Samsung SyncMaster 173MW, were not far behind, both achieving text and graphics scores of Outstanding and Very Good, respectively. The Sharp doesn't have an antiglare coating, so it may not look as impressive in bright settings.
All three models performed well in our DVD playback test, but again the Sharp proved superior to its two competitors. Oddly enough, DVDs looked better on these smaller panels than on their larger 23- and 24-inch cousins.
Each of the units comes with a built-in TV tuner and picture-in-picture display, which allows you to watch a second channel within a smaller window in the screen; the LG also includes picture-by-picture (side-by-side split screen) and picture-on-picture, which lets you watch a second channel in a smaller, uncropped window alongside a larger, uncropped main picture. Of the three, only the Sharp does not offer HDTV support.
All of the 17-inch models we saw missed an opportunity by forgoing pivot capability. Since a 17-inch wide-screen monitor's display area is only about 90 percent that of a normally proportioned 17-inch display, you want to make the most of the wide-screen format. And one way to make great use of a wide screen would have been the ability to pivot it to portrait orientation for viewing long, vertical Web pages.
Big and Beautiful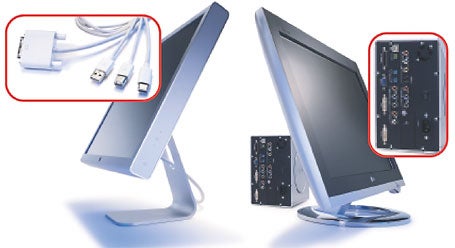 It's a good thing we examined the smaller LCDs first, because the larger wide screens spoiled us. Professional image editing programs, with their many palettes, immediately take advantage of the increased territory. But even lowly word processing documents look more distinct on a bigger screen; plus, the display's size allows you to look at two Microsoft Word pages side by side. The effect feels much like using a dual monitor setup, but without the bezel interrupting the images in the middle.
Of the five 23-inch monitors and one 24-inch screen our jury saw, most were superb at displaying graphics and text. One exception was the BenQ FP231W, whose poor color reproduction and distracting shimmer in light-colored areas kept it off the chart.
The graphics race in the 23-/24-inch category was close yet undisputable: Our jury found the lifelike colors and clean details of Apple's 23-Inch Cinema HD Display irresistible. This beauty went undefeated in its reproduction of color photos and a Web page.
In general the large size and 1920 by 1200 native resolution of 23- and 24-inch wide-screen LCDs translated to crisp, beautiful text. Though the Apple performed extremely well in these tests, too, Samsung's SyncMaster 243T won by a nose. LG Electronics' Flatron L2320A disappointed our jury with yellowed tones and indistinct text that one tester dubbed "smeary."
It Stays on the Desk
Despite their sprawling sizes and wide-screen format, these big monitors should not be mistaken for living-room TV sets. Among the 23- to 24-inch monitors, only the Apple, the LG L320A, and the Philips Brilliance 230W scored well on the PC World Test Center's DVD motion tests; and of these three, only the LG has component input. In my informal, full-screen tests conducted with a DVD of Pirates of the Caribbean: The Curse of the Black Pearl, all models but the Apple exhibited at least minor ghosting. On the HP and Samsung models, dark ropes ghosted significantly against a bright sky, and waves appeared choppy with artifacting.
That said, almost all of these monitors offer picture-in-picture ability, which can be just the thing if you need to stay tuned to news headlines while hammering away at the keyboard. In the smaller window, resolution and ghosting problems are less distracting than they are at full-screen.
Shop Tech Products at Amazon