The Digital Holiday Shopping List
Page 10 of 12
Wi-Fi for Dial-Up

For years, only broadband users have been able to access the Internet wirelessly. Not anymore: With Always on Wireless's $149 WiFlyer, a portable Wi-Fi router for both dial-up and broadband, wireless access is available wherever there's a phone line. Conveniently, the PDA-size device stores the access numbers of all major dial-up service providers (AOL, MSN, EarthLink). The device has a range of up to 300 feet.
One thing we'd change: Including a battery-power option would help make the WiFlyer truly portable.
Your Own American Idol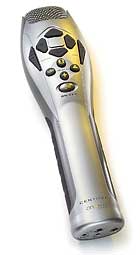 It looks like a microphone with extra buttons, but IVL Technologies' $80 On Key Karaoke Player is an all-in-one fun machine with 20 built-in pop and traditional songs--more available online. Connect the mike to a TV and sing along as highlighted words pop up on screen. Can't sing on key? Hit the Auto-correct button. Another button adds acoustic effects.
One thing we'd change: The silly background photos on the TV screen have nothing to do with the song that's being played.
Shop Tech Products at Amazon