The Digital Holiday Shopping List
Page 2 of 12
BlackBerry á La Mode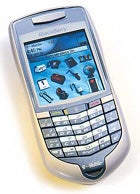 Known for its real-time, no-delay e-mail--anywhere capabilities, the BlackBerry PDA has drawn a cult following. The new $199 BlackBerry 7100t cell phone should transform that into a mass following. Besides supporting T-Mobile phone service, it handles personal and corporate mail, instant messaging, Web browsing, and PDA functions. This Swiss Army knife of phones really cuts it.
One thing we'd change: The hybrid qwerty keyboard/phone pad can be daunting at first.
Tinier Camera, Bigger Screen

It's funny how much difference a big, bright LCD can make. The 2-inch screen on the $399 Canon PowerShot Digital Elph SD300 makes picture-taking easier. And belying its small chassis, this Elph has enough power to please most users: The SD300 offers 4-megapixel resolution, 3X optical zoom, and fast start-up; and it captures VGA-quality video at 30 frames per second.
One thing we'd change: Some of the camera's buttons are so tiny and tightly packed that they can be hard to use.
Shop Tech Products at Amazon