The Digital Holiday Shopping List
Page 5 of 12
Wireless Head Trip

The glorious surround-sound output that comes from Pioneer's $399 SE-DIR800C Cordless Surround Headphones is reason enough to recommend them. But even better, they're wireless--allowing you to escape the encumbrance of a cable tether. The diminutive base station supports most Dolby audio formats, and the well-padded headphones have a range of 25 to 30 feet.
One thing we'd change: The infrared wireless technology doesn't let you listen in another room than the one where the base station is located.
Memory in a Flash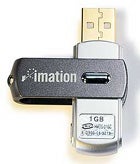 Our wish list for the perfect USB flash memory key has been granted with the arrival of Imation's 1 GB USB 2.0 Swivel Flash Drive. It has a protective swivel cap that's impossible to lose, reads and writes with hard-drive--like speed (8-MBps read, 7-MBps write), and offers loads of capacity. The 1GB version is $289; a 128MB key costs $49.
One thing we'd change: A carrying case would be nice in lieu of that goofy neck strap.
Shop Tech Products at Amazon