Page 5 of 11
The Hold Everything Discs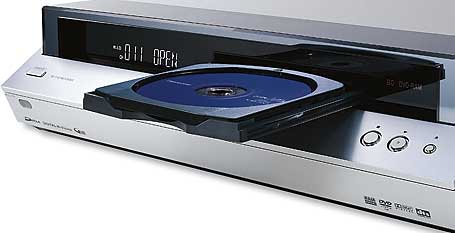 In this age of HDTV and 300GB hard disks, the 4.7GB DVD disc just isn't getting the job done. The good news: Three groups are touting optical disc formats that offer four or five times the capacity of today's DVDs. But a format war is afoot, and no one knows how it will shake out.
The High Definition-DVD group, led by NEC and Toshiba, has created a 15GB format some analysts say will offer lower disc prices. NEC, Sanyo, and Toshiba plan to ship HD-DVD players in 2005, and recorders possibly in 2005 or 2006. NEC plans to ship an HD-DVD drive for PCs as well.
Blu-Ray Offerings

The competing Blu-ray standard--headed up by Matsushita, Sony, and other PC and consumer electronics giants--stores 50GB on a disc. Blu-ray recorders (including the LG Electronics LG-XBG420, Panasonic DMR-E700BD, and Sony BDZ-S77) are now available in Japan--albeit at prices above $1000. Sony expects Blu-ray products to be available in the United States in late 2005 or early 2006. Nonrecording players--which could play any type of content stored on a Blu-ray disc--are expected by the end of 2005. Sony says its upcoming PlayStation 3 will come with a Blu-ray player.
HD-DVD and Blu-ray employ blue-laser optics, which use a much shorter wavelength to tightly pack bits of data on the disc surface. The problem is, blue-laser optics are expensive. So a third technology, called Digital Multilayer Disc (DMD), from D Data, has emerged. It uses low-cost red lasers and a transparent, fluorescing medium to store up to six layers of data within a disc. Instead of pointing a laser at a reflective surface layer, DMD interacts with fluorescing materials embedded in multiple layers to achieve initial capacities of 15GB. DMD promises lower-cost hardware and media than blue-laser-based formats. D Data plans on disc capacities doubling to 30GB in 2005 and doubling again to 60GB by 2007. However, DMD lacks the kind of industry support that's lined up behind Blu-ray and HD-DVD.
Don't expect quick victories in this format fight. By mid-2005, major Hollywood studios will likely take sides and force the issue. Blu-ray could hold an edge with Sony's large film libraries. HD-DVD has the imprimatur of the DVD Forum, the group that controls the spec for DVD.
In 2007, Sony expects to ship a four-layer Blu-ray disc that will hold 100GB of data, and has developed prototypes of an eight-layer, 200GB disc. Ultimately, recorders and drives that support both HD-DVD and Blu-ray may emerge.