Page 8 of 11
Smarter Appliance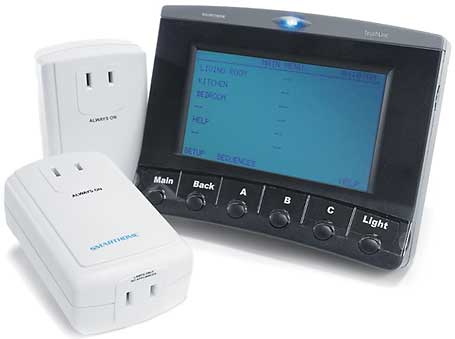 Every year, home automation seems poised to take off. And every year, tech-savvy home owners are unimpressed by the poor performance and reliability of products based on the aging X10 standard (which was developed by X10 USA, the company responsible for making those tiny surveillance cameras, and for delivering a host of annoying pop-up ads to promote them). X10 devices send signals to each other over a power line, but users complain that some devices don't function well together and that simple things like flipping a light switch can produce sluggish or inconsistent results.
In 2005, a protocol called Insteon should help change that. Insteon supports both wireless RF (radio frequency) and power-line operation, and promises to be more reliable than existing options. Backward compatible with X10 gear, Insteon could help renew enthusiasm for home automation.
Ken Fairbanks, director of sales for Smarthome, a company that develops Insteon-based products (such as transceivers and touchscreens), envisions a growing market for Insteon. Smarthome's products will tell, for example, if a bathroom light switch in an elderly parent's home hasn't turned on by 10 a.m., perhaps indicating he or she is ill. It can then alert family members.
Insteon's competitors include Zensys's Z-Wave and the ZigBee Alliance, both of which offer wireless automation. The ZigBee group, made up of nearly 100 companies--including Mitsubishi, Motorola, Philips, and Samsung--could deliver home-automation kits using the standard in 2006.
Kitchen tools are getting smarter, too. Ted Selker, director of the Context Aware Computing Group at the Massachusetts Institute of Technology Media Lab, is working on a spoon that measures and reports the thickness and makeup of a mixture to help guide you through a recipe. Another project: a plastic food container that keeps track of how many days the contents have been in the fridge.
Selker also envisions homes in which kitchen tables, family-room walls, and other surfaces become virtual workspaces. The kids' homework and parents' bills will be called up on these surfaces.