Page 9 of 11
High-Concept Cars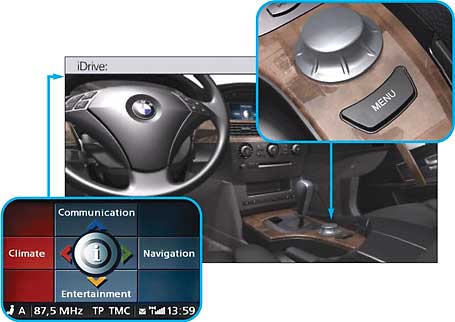 We've been dreaming about high-tech cars since the Eisenhower administration. Although flying cars aren't here yet, what we can expect over the next two years are vehicles with smarter interior features and embedded hard drives that store maps, phone directories, and digital audio. Thanks to the widespread use of digital audio players, car manufacturers may finally provide line-in jacks in car radios.
Automakers are poised to take another run at heads-up displays, using technology similar to that used in fighter jets to place information in the driver's line of sight. In fact, BMW offers this capability as an option in some of its 5 Series sedans. BMW and Ford are independently working on adaptive cruise control systems that would marry radar sensors with intelligent controls so cars could automatically respond to other drivers on the road by maintaining a safe distance.
Wi-Fi Car
New uses for current, off-the-shelf technologies are being considered for in-car implementations--for example, using LCD monitors for a customizable dashboard interface, or turning vehicles into Wi-Fi access points. "There's a lot of talk about the Wi-Fi car," says Thomas Hallauer, editor of TelematicsUpdate.com. Wi-Fi-capable cars could let you download MP3s or navigation maps to on-board systems. But such capabilities will take a couple of years to arrive, he says.
Looking further ahead are the folks at the MIT Media Lab. One of its projects is the "soft car" concept, which envisions a chassis with an airbag-like exterior. Or hubless wheels that place motors and suspension in each wheel so that cars no longer need to be built around rigid drive trains and suspensions. A more likely advancement is the use of electronic ink--a material that can change the appearance of a surface--so cars could change color, making them more visible at night. Ryan Chin, studio manager for the project at MIT, says the technology could even display messages or advertising. What will they think of next?