capsule review
Dell Axim X30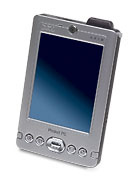 In appearance, the silvery, lightweight Axim X30 is identical to its predecessor, the Axim X3. With its stubby antenna, it looks bulkier than HP's IPaq 4150 (though at 4.9 ounces it's not much heavier). The unit's 240 by 320 display remains one of the brightest, sharpest PDA screens available; and the silver recharging cradle's extra slot for accommodating a second removable, rechargeable battery is a smart and useful extra.
The $349 Axim X30 I examined had a 624-MHz PXA270 processor (code name, Bulverde), Intel's latest CPU for personal digital assistants. Bulverde processors have the PDA equivalent of Intel notebook CPUs' SpeedStep technology, which prolongs battery life by adjusting power requirements depending on the applications in use. Dell also markets a $279 version of the X30 that has the same trimmings but a slower (312-Mhz) Bulverde processor, and a $199 version with the 312-MHz chip, no integrated Wi-Fi, and 32MB each of flash ROM and SDRAM (compared with 64MB each in the more-expensive models). The two lower-cost X30 versions come with a syncing cable instead of a recharging cradle.
The X30 runs Microsoft's Windows Mobile 2003 Second Edition, which permits landscape-mode display orientation, allows Internet Explorer to force Web pages into a single column, and adds support for Wi-Fi Protected Access (WPA), the most recent Wi-Fi security scheme.
The Axim X30 continues Dell's tradition of producing top-of-the-line PDAs at a good price.
Yardena Arar
Shop Tech Products at Amazon