capsule review
HP IPaq Hx4705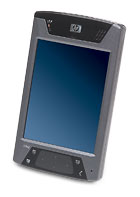 The IPaq Hx4700 series of Windows Mobile 2003-based Pocket PCs sport a touchpad in place of the navigation button that most IPaqs have. It also accepts stylus-based input. Trapezoidal in shape, the touchpad on the Hx4705 occupies the central inch or so at the bottom of this charcoal-gray-and-black PDA. The touchpad's matte surface is punctuated by four slightly raised points--called Tap Zones--laid out in a diamond pattern measuring about 0.75 inch wide by 0.25 inch high.
Surrounding the touchpad is a larger and wider shiny black trapezoid with tiny white icons at each corner. If you press these icons, you feel a button click beneath the surface: These are the Hx4705's version of the application launch buttons on more-traditional PDAs. You can program these buttons to perform various tasks, but by default they launch the calendar, the contact list, the e-mail application, and ITask, a custom menu that affords quick access to frequently used applications.
The Hx4705's installation CD includes a Macromedia Flash tutorial by Synaptics, and it's a good idea to take advantage of it. Trying to use the touchpad without help left me puzzled. From the tutorial, I learned that the touchpad's default mode is a navigation mode in which you scroll around by tapping or swiping the touchpad. For me, this was an exercise in frustration--sometimes getting me where I wanted to go, and sometimes not. In contrast, the touchpad's cursor mode, which produces a small cursor on the screen, always let me know where I was on the screen, and generally behaved like a cursor on a notebook with a touchpad. When I swiped, the cursor moved; when I tapped, it highlighted and selected a menu item or icon.
In many respects, the Hx4705 is a fine PDA. Its built-in Wi-Fi adapter was easy to set up; and the Bluetooth adapter looked to be equally user-friendly, though I didn't try it. Other impressive hardware specs include SD and CompactFlash II slots, Intel's 624-MHz Bulverde processor for handhelds (the fastest available), and a roomy 4-inch LCD that easily toggles between landscape and portrait modes. The unit I tested had 128MB of ROM and 92MB of SDRAM (135MB of the combined memory is available to users), and the business-oriented software bundle includes trial versions of several useful apps.
But at $649, the Hx4705 commands top dollar for a handheld. And even diehard touchpad fans might balk at paying such a premium to get their favorite technology on this type of device. I'd save my PDA big bucks for something more useful, such as HP's IPaq H6315, which delivers a phone, a camera, and a snap-on keyboard as well as Wi-Fi and Bluetooth connectivity--and works just fine with a simple stylus.
Fast, capable PDA with many outstanding features is undercut by a frustrating touchpad control.
Yardena Arar
Shop Tech Products at Amazon