Dell's Good, Inexpensive Color Laser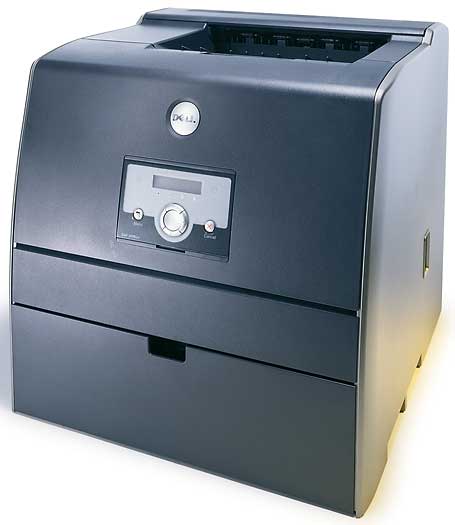 Interested in getting a networked color laser printer, but unwilling to spend a fortune? Dell's Laser Printer 3000cn is just $449, and it offers good speed and quality.
The unit is easy to set up, and its LCD menu is fairly intuitive. It offers both a USB 2.0 port and a parallel port (cables not included) as well as built-in ethernet. The 3000cn has a resolution of 600 by 600 dpi, weighs in at 55 pounds, and measures 16.5 by 16.7 by 17 inches (this is definitely not a portable model).
It comes loaded with 64MB of RAM, which should be sufficient to handle most standard printing tasks (for $150 you can easily upgrade the RAM to 512MB). The included paper tray holds up to 150 sheets; optional trays can take 250 ($180) or 500 ($230) sheets or handle duplexing ($300). The 3000cn offers support for Printer Command Language but not for PostScript, and it is compatible with Windows 98 and up.
In our tests the printer did reasonably well: 17.9 pages per minute of text output and 3.4 ppm of color graphics output (it's rated to print 25 ppm and 5 ppm, respectively).
The print quality for text and basic graphics was quite satisfactory, but photos presented a mixed bag. One of our grayscale prints showed nice detail in light and dark cloth patterns, but the gradation of skin tones wasn't smooth in all cases, and the curve of a face had some jagged edges. Color photos lost some of their detail, such as fine lines in clothing, but colors looked appealing overall.
Good performance and an excellent price make this printer a nice fit for a small or medium-size office on a tight budget.
Anush Yegyazarian
Dell Laser Printer 3000cn
A speedy printer with very good text and decent color output for a great price.
Price when reviewed: $449
Current Prices (if available)
At a Glance
High-quality printing and very fast text printing at an excellent price. Small footprint and good design; supports PCL. Read the full review
Shop Tech Products at Amazon