Intuit Offers QuickBooks for Newbies
At a Glance
Intuit QuickBooks: Simple Start Edition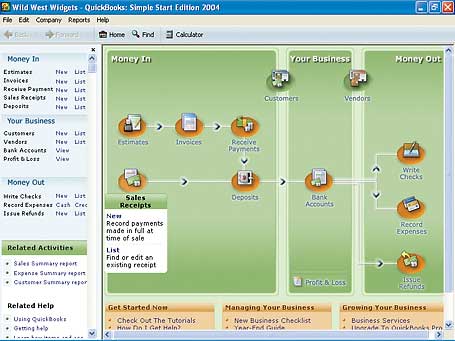 If you run a small business and haven't automated your books and records because you fear it's too complicated, the just-announced QuickBooks 2005: Simple Start Edition from Intuit could be for you.
I reviewed a beta version of the $100 Simple Start desktop software; a year's subscription to the online-only version is available for the same price. The online version offers the added benefit of automatic data backup on Intuit's servers; but to maintain access to the online version, you'll have to pay about $10 per month after your first year is up.
Setup is fast and intuitive, and I finished the task in less than an hour. I liked Simple Start's user interface, which looks very much like an easy-to-understand flowchart. Even a nonaccountant can comprehend its basic concepts of "Money In" and "Money Out."
You can set up customers and create estimates and invoices. You can also create vendor accounts and track bill payments, although there's no online banking support. In addition, Simple Start provides rudimentary reports so you can monitor the bottom-line results of your business.
Intuit's target market for Simple Start is clearly service-based companies; goods-based businesses will probably find the application too limited. For example, you cannot keep track of products available for sale in inventory.
Some small businesses will chafe at the one-at-a-time user restriction and the program's lack of more-sophisticated financial reporting. However, the software does make it easy to migrate your data to a more powerful edition of QuickBooks down the road ($199 buys QuickBooks Basic).
Intuit's latest creation has many limitations, but if you're still keeping business records using pencil and paper--or even an Excel spreadsheet--Simple Start could make your bookkeeping chores dramatically more palatable.
Richard Morochove
Intuit QuickBooks 2005: Simple Start Edition
Inexpensive and easy to use, it should satisfy many small businesses; advanced users may find it too limiting.
Price when reviewed: $100
Current Prices (if available)
At a Glance
Intuit QuickBooks: Simple Start Edition
Shop Tech Products at Amazon