Entertainment PCs Take Center Stage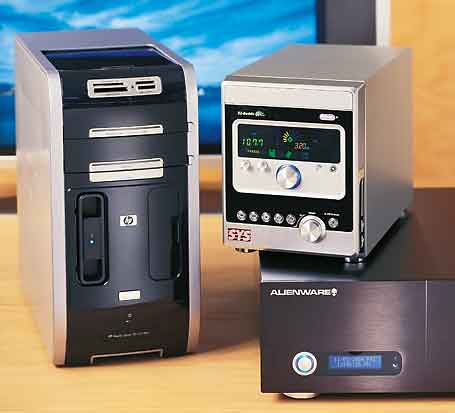 Kick off your shoes, settle back on the sofa with the remote control, and turn on your PC. Yes, your PC. Loaded with Microsoft's Windows XP Media Center Edition 2005 operating system, members of a new class of PC-based leisure machines promise to serve as your PC and home entertainment center rolled into one. A Media Center system lets you listen to radio, play CDs, watch DVD movies (or movies you've downloaded from the Internet), and view and record live TV. And you can get some work done, too, with a wireless mouse and keyboard.
In This Article
Windows Media Center Edition is lots of fun to use--it's difficult to resist an interface that ties together so many pleasant diversions. Pausing and recording live TV à la TiVo is a snap, as is arranging your digital photos in a slide show while a CD plays in the background. With the 2005 version you can watch one channel while recording another (or record two at once)--a big improvement. You also get a simple disc-creation program that enables you to burn songs, pictures, or TV shows onto a DVD right from within Media Center. The operating system's inviting main menu, which lists all your entertainment options--Play DVD, My Videos, My Pictures, My TV, My Music, and Radio--has not changed much from the previous version's. Neither has the pleasingly fluid way that Media Center moves between entertainment areas and responds to the remote.
We did experience a few disappointments with the OS, however. Inexplicable tinkering with submenus has made some of the applications harder to use. For example, you now have to leave Radio and drill down two menus under Settings to delete a preset station, a simple chore that you should be able to perform on the Radio screen. In My TV, you can no longer see the Record and Guide menu choices conveniently alongside a live window.
Media Center Edition needs additional fine-tuning, including a forward button for times when you hit the back arrow once too often. In addition, Media Center's refusal to notify you when TV listings have finished downloading from the Internet is annoying, and applications occasionally trip over one another. For instance, CDs stop playing when you attempt to configure a network connection.
Should you make the leap to a Media Center PC, firing your DVD player, stereo receiver, and TiVo and putting all your entertainment eggs in one basket? These are PCs, after all. Will you be upset when a hard drive malfunction or system crash results in the loss of a month's worth of recorded Law & Order episodes? Will you be able to concentrate on The Shawshank Redemption while conscious that an unsaved spreadsheet lies waiting on the screen underneath? You can't upgrade your TV as you can a PC, but you don't have to protect it against viruses, either.
If you're a trailblazer or if you own an old stereo and TV and have yet to buy a TiVo box, one of these PCs could be an adventure worth embarking on. Just don't forget that you'll want a broadband connection and, ideally, a home network to realize its media-sharing potential.
Several Shapes and Sizes
Home entertainment PCs come in a variety of forms. Six of the nine systems we reviewed for this roundup are designed to look like electronics components rather than like desktop systems. Alienware's DHS 5, CyberPower's Media Center PC Limited Edition, and IBuyPower's Media-XP are handsome black boxes. ZT Group's Cisnet Media Center PC X6534 is a large brushed-chrome unit that's somewhere between a component and a desktop in size. Meanwhile, the Shuttle Computer XPC G5 8300MC and the Sys Technology MediaMax take a different tack, resembling large shoe boxes. None approaches the sleekness of a new DVD player, but any of these units will look right at home in your living room. And only the hum of their system fans will give them away.
Traditional Towers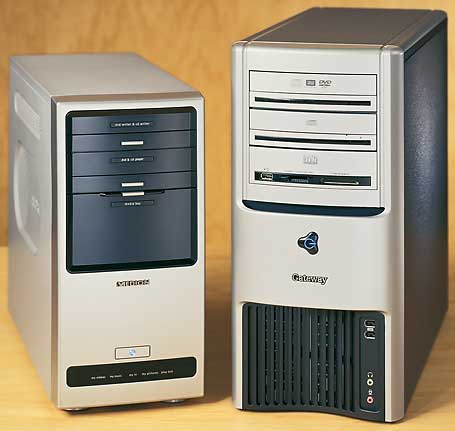 We also took a look at three units with traditional PC designs: the Gateway 820GM, a tower; and the HP Media Center PC M1050y and Medion M3Director 5100, both minitowers. Décor-wise, these machines may make more sense in a den or home office. But the well-mannered Gateway--the quietest of the nine by far--could go in any part of your house.
All of the units we saw are powerful PCs equipped with fast Pentium 4 or Athlon processors, at least 512MB of memory, large hard drives, high-end graphics cards, multiformat DVD burners, memory card readers, and all the usual ports. These Media Center PCs earn their entertainment stripes by coming preinstalled with Windows Media Center Edition 2005 and a built-in TV/FM radio tuner card. They have tons of audio and video ports--many have not only VGA and FireWire but also S/PDIF, S-Video, DVI, composite, and component video--to connect the latest equipment, from your camcorder to a plasma TV. Finally, to direct the action, each system comes with a remote control and an infrared receiver, usually a small USB unit. The latter includes infrared blaster cables that you affix to your cable box so you can change stations through the Media Center interface.
You shouldn't have a problem setting up the hardware for any of these entertainment PCs; the task isn't any more difficult than installing a VCR. The biggest hassle we encountered involved mapping the Media Center remotes to our Comcast satellite-TV box, a long and tedious process. Only two of the systems, the Alienware DHS 5 and the HP Media Center PC M1050y, had manuals that fully document how to set up the system, including how to integrate the PC into an existing TV-VCR-satellite arrangement. Clearly, most vendors expect buyers to be savvy PC users who can work with the software, rather than consumers who merely want a PC-based entertainment box.
We saw a range in performance scores. The HP Media Center PC M1050y, which came equipped with a 3.8-GHz Pentium 4 570 processor, was the top performer, earning a WorldBench 5 score of 96. Medion's M3Director 5100--which had the slowest CPU, a 3-GHz Pentium 4 530--got a mark of 80, about 17 percent less.
We noticed a clear difference in how the PCs handled radio tuning. Only the Sys Technology MediaMax's seek time was as fast as a traditional stereo's. The CyberPower and ZT Group PCs were almost as snappy, but the rest were excruciatingly slow, often taking up to 20 seconds to find the next station. Typing in a station and saving it as a preset worked much better.
Speaking of entertainment options, we also checked out a Media Center laptop from Toshiba and a gaming system from Compaq.
See our chart: Top Entertainment PCs
Shop Tech Products at Amazon