AutoSketch Makes 2D Drawings Easier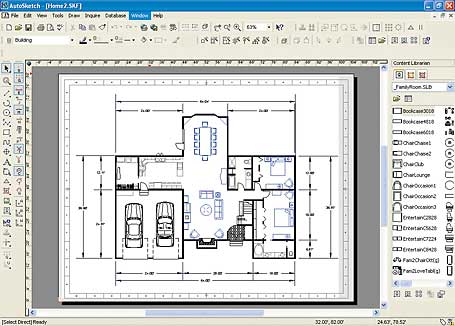 You don't have to be an architect or an engineer to need software that allows you to create precise drawings. Whether you're an office manager working on the floor plan of a new office, a contractor sketching out a renovation, or a homeowner working on a remodeling project, check out Autodesk's AutoSketch 9. The $120 program is less expensive and easier to use than the company's industrial-strength AutoCAD app, and it's compatible with AutoCAD's DWG file format. I tested a shipping version of AutoSketch 9.
The program's project wizard steps beginners through selecting the type of drawing to prepare and entering the project's units of measure and dimensions. Users with more experience can start drawing immediately from scratch or with predrawn templates.
The All-In-One Toolbar puts almost all the drawing tools you need in the workspace, rather than burying them in drop-down menus. If you've used drawing programs before, you'll find that many of AutoSketch's tools behave in familiar ways. The number of tools is so extensive, however, that you'll need to consult the help files on occasion to take full advantage of them.
If you just want to landscape your backyard, a less pricey tool can do the job--for home projects, Broderbund's venerable 3D Home Architect ($50) comes to mind. But if you regularly create precision line drawings and need AutoCAD compatibility, AutoSketch 9 is well worth the price.
Rebecca Freed
Autodesk AutoSketch 9
Powerful 2D drafting program offers precise drawing tools at a reasonable price.
Price when reviewed: $120
Current Prices (if available)
Shop Tech Products at Amazon