At a Glance
Visioneer Xerox DocuMate 6400 USB 2.0 Flatbed Scanner Visioneer Xerox DocuMate 6400 USB 2.0 Flatbed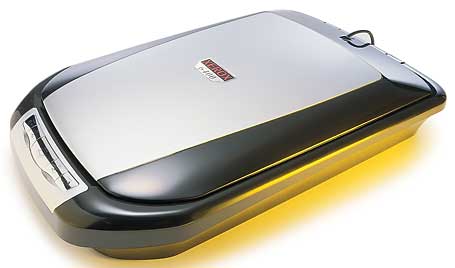 Visioneer's Xerox 6400 is the first flatbed scanner bearing the Xerox brand name that targets photography buffs rather than office workers. The $180 scanner did a solid job in my tests, generating high-quality photo reproductions that include ultrahigh-resolution scans. Its poky pace and limited photo-restoration talents make it hard to recommend unreservedly, though.
Like competing scanners from Canon, Epson, and Microtek, the 6400 is a 48-bit-color-depth model featuring one-touch function buttons, a built-in transparency adapter, and a software bundle that includes tools for editing and managing your images. But the USB 2.0-based 6400 is one of the few models in its class (Microtek's $130 ScanMaker i320 is another) that offer an ultrahigh resolution of 3200 by 6400 dpi, which is great for making huge enlargements from slides.
The shipping version of the 6400 that I tested was a breeze to install and use. In test scans, image quality was generally good overall, but I often obtained even better results by adjusting the default settings for contrast, brightness, and saturation.
The 6400's biggest drawback is its plodding performance. For example, it took nearly a minute to scan a color photo at 1200 dpi (Microtek's ScanMaker i320 finished the same scan in 30 seconds).
The 6400 also offers a few photo-restoration tools, such as scratch removal and auto enhancement--both of which I used to correct prints marred by folds and faded color. Unlike some competing units, however, the 6400 won't allow you to use its tools to correct defects until you've finished scanning an image.
Fussy photo fans who prefer using photo-restoration tricks during scanning may prefer another model. But if restoration isn't your main goal and speed isn't critical, the 6400 may suit your needs.
Richard Jantz
Visioneer Xerox 6400
Easy-to-use, high-resolution scanner has limited restoration tools and pokes along.
Price when reviewed: $180
Current Prices (if available)
At a Glance
Visioneer Xerox DocuMate 6400 USB 2.0 Flatbed Scanner Visioneer Xerox DocuMate 6400 USB 2.0 Flatbed
Shop Tech Products at Amazon