NEC's Slick Wi-Fi Projector
At a Glance
Visioneer Xerox DocuMate 6400 USB 2.0 Flatbed Scanner Visioneer Xerox DocuMate 6400 USB 2.0 Flatbed

NEC LT265 DLP Projector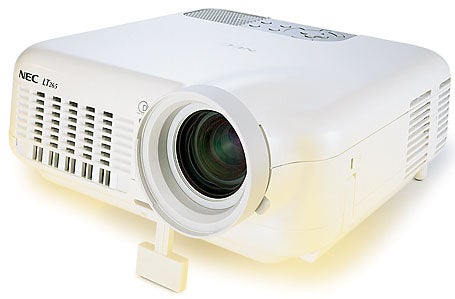 The wireless-ready LT265 DLP (Digital Light Processing) projector from NEC has a smooth, eggshell-white veneer that commands attention. I found much to like about this unit, but a few drawbacks too, including an overly complex wireless setup procedure.
The $2495 projector's native XGA (1024 by 768) resolution yielded sharp text and crystal-clear graphics images. Less impressive was my shipping unit's color handling: Images and video DVD colors looked muted; adjusting the image presets helped, but the results still weren't perfect.
Basic setup for the LT265 was simple, thanks to a host of connectivity options (including various jacks plus wired ethernet). The wireless setup was frustrating, however. I installed NEC's optional $159 NWL-100A PC Card and discovered that neither the included manual nor the on-screen help provided adequate setup guidance (NEC says it plans to post extra help online).
Once configured, the wireless component did a significantly better job of Wi-Fi projection than earlier iterations. For optimum performance, you must access the projector via an established wireless-G network (direct notebook-to-projector connections are slow and even more complicated).
The NEC LT265's multitude of features makes this model a good choice for various presenting situations. But its average color reproduction and overly complicated wireless setup detract from it.
Melissa J. Perenson
NEC LT265
Price when reviewed: $2495 (plus $159 for optional NWL-100A wireless card)
Current prices
(if available).
Nice features, but documentation is poor and wireless setup tricky.
At a Glance
Visioneer Xerox DocuMate 6400 USB 2.0 Flatbed Scanner Visioneer Xerox DocuMate 6400 USB 2.0 Flatbed

NEC LT265 DLP Projector
Shop Tech Products at Amazon