Intuit, Best Software Offer Improved Accounting Apps
At a Glance
Intuit QuickBooks Premier Editions 2005 Win

Best Software Simply Accounting 2005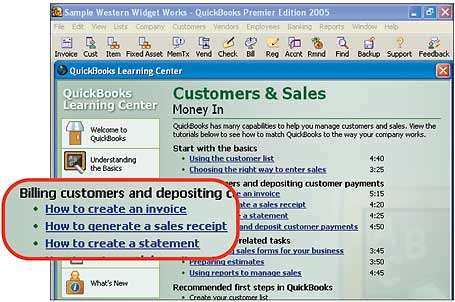 The 2005 releases of small-business accounting software from Intuit and Best Software head in different directions. QuickBooks emphasizes ease of use with a Learning Center, chock-full of useful tutorials, featured in all three editions (Basic, Pro, and Premier). Meanwhile, Best's Simply Accounting heads upstream, adding to its lineup a new high-end Premium edition that handles multicompany financial consolidations plus industry-specific features and specialized terminology.
QuickBooks' New Navigator
I looked at shipping versions of all three QuickBooks 2005 products: the $200 Basic, $300 Pro, and $500 Premier. Among the most noteworthy changes in all three is the redesigned Report Navigator, which continues QuickBooks' ease-of-use theme. The app now groups reports more logically, which makes finding the one you want easier.
The new versions also make it simpler to apply customers' payments to the correct invoice, whether they pay by check or you download their credit card charge information from an online account.
Some improvements are available only in the advanced editions of QuickBooks. In the Pro and Premier editions, you can transfer invoice data to Microsoft Word and add a personal comment, if you wish, before printing out the bill. This year Intuit includes all of its industry-specific versions of QuickBooks Premier on one CD, which also provides the generic setup. You just select the one you want at installation: accounting, contractor, manufacturer, nonprofit, professional services, or retail. The package contains added financial analysis and planning tools, as well.
While all three versions of QuickBooks offer a handful of new features, the most significant improvement is that each is easier to learn to use. Of course, that isn't of much benefit to seasoned users, who may not find enough that's new to justify an upgrade.
Simply More Options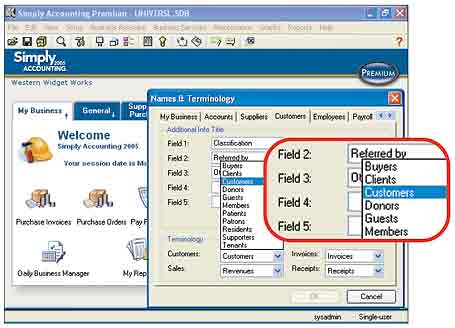 Best Software, the maker of Peachtree Accounting, acquired the Simply Accounting product line when it bought ACCPAC International in 2004. Best brings two notable changes to the Simply Accounting 2005 lineup: a $500 Premium edition, and a price jump to $300 for the Pro version (an increase from $100). Unfortunately, Best also removes the bilingual (English/Spanish) capability from all but the Premium edition.
I tested shipping versions of all three editions. Each one includes a new dashboard feature that calculates key business performance measures, such as estimated available cash and financial ratios.
The good news is that Simply Basic still sells for just $50, a great bargain compared with Intuit's $200 QuickBooks Basic (and it's half the price of Intuit's Simple Start edition).
One reason to upgrade from Basic to Pro: Pocket PC integration, which allows you to create orders, invoices, and time slips on your handheld.
The all-new Premium edition provides consolidation of multicompany financial results, which is useful for a group of related small businesses. Similar to QuickBooks Premier Edition, Simply Premium provides special reports and terminology to suit different industry types, but in a more flexible manner.
Best's Simply Accounting 2005 lineup deftly maintains its ease of use for newbies yet adds enough headroom to satisfy businesses with more complex requirements.
Intuit QuickBooks 2005
Basic is a bit pricey; entire lineup is now easier to use and continues to offer good business planning tools.
Price when reviewed: $200 Basic, $300 Pro, $500 Premier
Current Prices (if available).
Best Software Simply Accounting 2005
Basic is an excellent value; Pro and Premium offer more features than Intuit's counterparts.
Price when reviewed: $50 Basic, $300 Pro, $500 Premium
Current Prices (if available).
At a Glance
Intuit QuickBooks Premier Editions 2005 Win

Best Software Simply Accounting 2005
Shop Tech Products at Amazon