Next Gear: Satellite Radio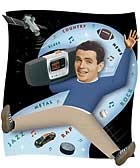 When Sirius and XM began offering their fee-based satellite services a few years ago, many radio lovers took note--and then went right back to old-fashioned-but-free AM and FM. But satellite is catching on: XM now has more than 2 million customers, while Sirius has 800,000.
Why are folks now deciding that satellite radio is worth the not-inconsiderable investment ($10 a month for XM, $13 a month for Sirius, and at least $100 for a satellite-capable radio)? For one thing, both services are ramping up aggressively, adding new stations and signing deals with free-radio stars ranging from Howard Stern (who will be moving to Sirius in 2006) to the ex-host of NPR's Morning Edition, Bob Edwards (now on XM). For another, more satellite radio gear is available, with designs and features that target listeners of all kinds.
Both services offer ad-free music in an array of genres, some 120 stations, and reception almost anywhere in the continental United States (except under bridges and in tunnels). They share some programming options (such as CNN Headline News), but they also offer exclusive channels, so you'll want to compare lineups before choosing.
Sports fans face a dilemma. Sirius has long been, er, serious about sports; it holds exclusive satellite rights to NFL football and NHL hockey games. For its part, XM has sole rights to NASCAR, and recently won rights to Major League Baseball for the next 11 years. Hence, your options are either pro football and hockey or pro baseball and auto racing--unless you splurge and get both services and two radios (satellite radios work with either XM or Sirius, not both).
Both services present a rich variety of news, talk shows, comedy, and other content beyond simply music and sports. For additional details about these two networks, see "A Quick Guide to Satellite Radio."
Whether you choose Sirius or XM, you'll need a radio designed to work with that particular service. There are plenty of options, but each of the following six devices offers a feature rarely found in other products, and each is certain to enhance your listening.