With the launch this week of new toolbars, Microsoft wants to make it as easy to find lost files on your desktop as it is to search the Web. The MSN Toolbar Suite, released in a beta version Monday, lets you initiate local file or Web searches with just a few clicks. But before you load these beta versions on your PC, you may want to wait until some of the rough edges have been smoothed.
The free MSN Toolbar Suite beta includes four programs that place toolbars across the top of your Internet Explorer, Outlook, and Windows Explorer screens, as well as in the taskbar at the bottom of your Windows desktop.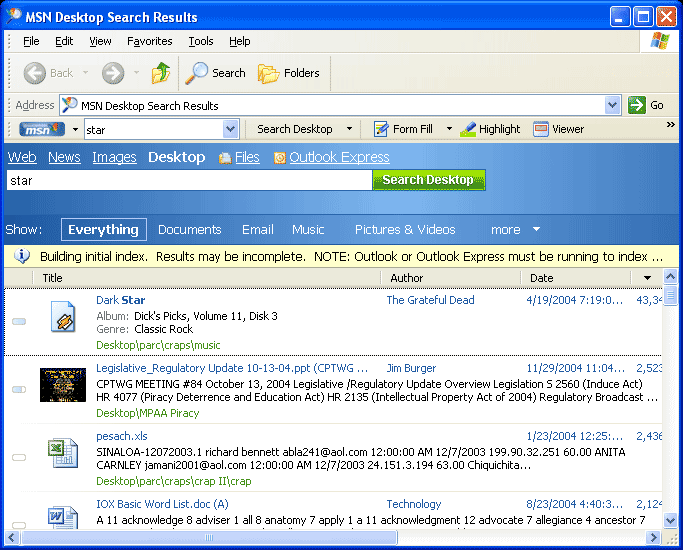 The updated MSN Toolbar for Internet Explorer, the first version of which was launched in March, now searches for files on your local drive as well as for information in Web pages. The new MSN Toolbar for Outlook searches e-mail and attachments, as well as contacts, appointments, tasks, and other Outlook files. The toolbar for Windows Explorer brings Web searching to all your folder windows, while also saving your searches in a Folders pane on the left-hand side. This lets you rerun past searches with a single click.
The new MSN Toolbar Suite is free and available for download now from PC World's downloads library. Available now in English, the suite is expected to be released in other languages next year.
Scanning the Competition
"People expect Microsoft to do a fantastic job on client code and searching within Windows and Office, and what we have delivered here is what people expected of us: the best way to search your PC," said Yusuf Mehdi, corporate vice president for the MSN Information Services and Merchant Platform division at Microsoft, during a news conference Monday.
Microsoft's rivals in the online search space--Google, Yahoo America Online, and Ask Jeeves--are all highly interested in ruling the desktop search market.
Ask Jeeves offered details of its beta desktop search tool late today, saying its free software,Ask Jeeves Desktop Search, will be available for download starting Wednesday. The company said the 750KB application will allow users to search their PC for files by name or by content, and would support Microsoft Office files, simple text files, Microsoft Outlook email messages, and image, music, and video files. The software will provide controls for users to define how much of their computers they want Ask Jeeves Desktop Search to index, as well as the speed (and thus the amount of bandwidth devoted) with which they want it indexed.
Google delivered a beta version of its desktop search tool in October, while Yahoo announced last week it plans to launch its own tool next year. AOL has said it will provide desktop searching within a Web browser it is developing.
Microsoft believes it will be able to win over users through the tight integration it says the MSN Toolbar Suite has with the Windows environment and applications, which will let users conduct desktop searches within the applications they are familiar with, as opposed to having to operate within an external application, Mehdi said.
Find Lost Files
The application likely to make the biggest splash is the MSN Deskbar, which resides to the left of your system tray on the taskbar. (In our tests, we were unable to reposition the Deskbar, but Microsoft says this is possible.) Along with searching your local files or the Web with a single click, the Deskbar provides one-click access to MSN Messenger, Hotmail, and other Microsoft properties.
The Deskbar is supposed to include support for "aliases," or text shortcuts for opening specific files. Microsoft claims that you can create aliases for starting applications as well (such as opening Word by typing "winword.exe"). It sounds like a great idea, but unfortunately, this feature didn't work in the beta version we tested.
Indexing of your local files begins as soon as the toolbars are installed. By default, they index your e-mail and the files in the My Documents folder. You can set the toolbars to index all of your local hard drives, or the drives and folders of your choice (including any network-attached drive, Microsoft says), although we weren't able to select individual folders on the F: drive in our test system.

After the initial indexing, the program re-indexes your files automatically every 15 minutes, but only when your system is otherwise idle. You also can press the "snooze" button in the Indexing Status dialog box to stop all indexing. (To open this dialog, you right-click on the toolbars' indexing icon in the system tray and click Indexing Status.)
What's missing is the ability to schedule indexing for only a specific time (your lunch hour, for example), which would ensure that the indexing doesn't interfere with your normal work.
Secure Searches?
A big concern for anyone using a program that indexes their personal files is the safety of their information. Microsoft vouches for the security of the information in your private files. The programs don't store copies of IM chats, secure Web pages (such as those you use to log on to online banking sites), or other sensitive files, says Justin Osmer, MSN product manager.
The company also says that the indexing file is stored locally and is never sent to Microsoft or anyone else. Index content is "obfuscated" and stored in a way that can't be read by humans, Osmer says.
Despite these assurances, it may be prudent to exclude folders containing financial and other sensitive information manually from the indexing via the program's Indexing Options dialog.
Even in their imperfect beta state, the search tools in the MSN Toolbar Suite are an improvement over Windows' own file finder. But--regardless of Microsoft's assurances of privacy--you may want to wait until the kinks are worked out of these programs before you trust your data to them.
Juan Carlos Perez of IDG News Service contributed to this story.