A Better PaperPort, Mostly
At a Glance
ScanSoft PaperPort Pro 10.0 (Full Product, PC)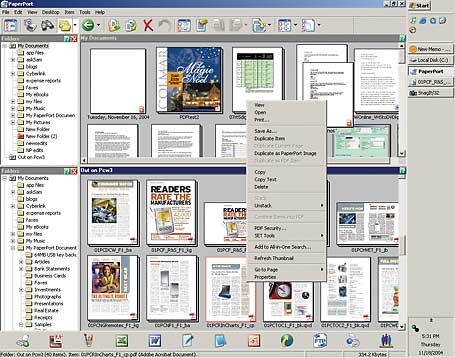 Scansoft's paperport--when paired with a document scanner--has long provided an elegant means for turning stacks of paperwork into easily organized digital documents. The company's new PaperPort Professional 10 adds solid features to the mix, but its interface is slightly confusing.
PaperPort functions like a shell over your existing folder structure, allowing you to easily view thumbnails of documents and images in their native format. The versatile program makes it easy to acquire images from such sources as scanners, multifunction printers, digital cameras, and network drives and devices.
The visual nature of the PaperPort Desktop simplifies the task of organizing documents. PaperPort Workspace, the application's interface, offers various display options and a new split-screen layout. Though I like the idea, I found the options surprisingly confusing to navigate and the interface somewhat cluttered compared with previous versions. The sparse electronic Getting Started guide didn't help clarify the design, either.
PDF (Portable Document Format) is king in the PaperPort universe. The bundled ScanSoft PDF Create software lets you easily convert files to PDF. And once items are converted to PDF or to PaperPort Image (.max) files, you can do more with documents, such as turn an image into a form you can fill out electronically.
I've found PaperPort invaluable in the past, and the new version certainly has much to offer. Once I master the new interface, I'm confident that I'll find PaperPort Professional 10 just as handy as I did its predecessors.
ScanSoft PaperPort Professional 10
ScanSoft bolsters its offering with convenient PDF creation and full-text searching.
List: $200
Current Price (if available)
At a Glance
ScanSoft PaperPort Pro 10.0 (Full Product, PC)
Shop Tech Products at Amazon