Music Unlimited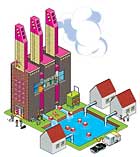 For digital music lovers, there's another option besides outright purchase and outright theft. Subscription-based services permit music fans, for a fee of less than $10 per month, to rent all the digital tunes they could want.
With all the new choices in services--including ones operated by Musicmatch, Napster, Real, and Virgin--we decided to evaluate them more closely. Each service lets you access its entire music library at any time, as if it were a gigantic jukebox. In many instances, the songs stream to your PC as you listen, so you don't have to download an entire song before playing it.
Many people listen to music on the go, so you might think that streaming is sometimes less desirable than downloading. After all, you can listen to streaming music only while at or near a PC with an Internet connection. To deal with this limitation, some services give their customers the option of downloading songs to their PC's hard drive for later use.
These downloadable tracks differ in important and basic ways from what you get if you buy them outright. The downloads from subscription services incorporate digital rights management (or DRM) technology to limit what you can do with your music. For instance, a DRM-protected song may be set up to prevent you from burning it to a CD; in contrast, a typical track purchased from the ITunes Music Store (for example) carries no such restrictions.
On some music services, downloadable files are just a convenience. On others (such as Virgin Digital), the service may not always let you stream an entire song; in those cases, you'll have to download the protected files if you want to hear the song in its entirety.
DRM permits music rental services to expire songs when a customer's subscription lapses. Until recently, this ability to control the way you used a song was possible only on a desktop PC. But a new DRM technology, called Janus, will be able to untether these restricted files from a PC so you can play them on portable music players. (For more information, see "Subscription Portability: Can You Take It With You?") To play music encapsulated in Janus DRM, you must have a new, Janus-compatible player.
Selection Is Key
The biggest advantage of streaming music is the selection. If you prefer an unlimited musical buffet to à la carte paid downloads, it's hard to beat streaming services. Each competing service provides hundreds of thousands of tracks that subscribers can play almost instantaneously.
Despite promises of huge numbers of songs available on the various services, odd catalog omissions crop up on occasion. Representatives from several of the companies say that holes in a service's library might reflect the lack of a license to present songs or albums in a particular format. Each record company requires services to sign unique license agreements in order to do different things with the music; a service that has a license to sell a song might not be able to stream it, for example.
Consider Neil Young's early seven-track album Everybody Knows This Is Nowhere. When we checked, Napster and Virgin Digital had all seven songs on the album available for download, but only Napster let us stream every track in its entirety (Virgin limited us to playing a 30-second streamed preview). Rhapsody offered only six of the album's songs and Musicmatch four. Ideally, a service would let you stream the entire song or download a DRM-encased version of any track available in its library. And the library shouldn't have maddening gaps in the playlists of popular artists.
Though such discrepancies don't nullify the value that these music services provide, prospective subscribers should be aware of them. A service with 800,000 streamed songs in its database might not have the very one you want to hear.
Musicmatch On Demand

The clean and uncluttered interface of Musicmatch On Demand integrates with its Jukebox player, which makes navigating through albums and single tracks easy.
Once you've added the On Demand service to Jukebox, you can drag and drop songs from a search panel into Jukebox's playlist window. One useful option lets you create playlists that mix and match tracks on your hard drive with streaming tracks.
If you're in a musical rut, Musicmatch can recommend new tunes: Select ten bands or artists you like (or let Jukebox inventory the music files on your PC), and the Music Discovery Engine will volunteer dozens of recommendations based on cues from the music-listening habits of all its users.
Napster

The first time around, watching the Napster client locate music is as thrilling as it was when Napster was an illicit service. But the thrill departs quickly. Of the services we tested, Napster's ultimately disappointed us the most.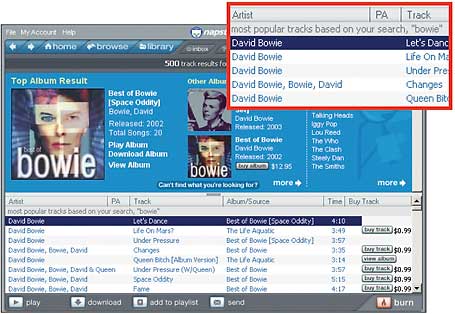 The client's cluttered and inconsistent interface makes it hard to tell, for instance, whether you'll hear the full song or just a 30-second sample when you click a title.
Napster touts its ability to search and play other members' playlists, but the interface has too few options: You can search only by the overly broad "genre" categories; or you can browse other users' playlists--if you know their name. But unless you figure out by ESP that "pookie2783" shares your tastes in music, this feature is pretty useless.
Most annoying was the pause--a result of the service's buffering the stream--that ensued after we clicked a song title. We had to wait several seconds for some songs to play. All in all, Napster reborn is only a shadow of its former self.
Rhapsody

With over 800,000 songs to choose from, clear organization, and links to a wide range of bonus content (including music videos), Rhapsody fared the best of the four services we tested. It isn't the cheapest service (Musicmatch offers subscriptions at rates as low as $7.95 per month, if you commit to a full year of service); but its sound quality is excellent, it offers desirable bonus features, and we didn't encounter any major faults.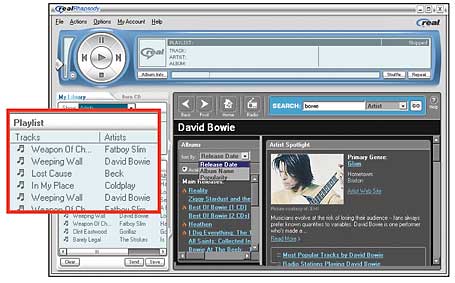 Despite its association with Real, Rhapsody doesn't require its subscribers to use Real's RealPlayer application. Instead, subscribers simply download the Rhapsody player, whose elegant user interface we prefer to RealPlayer's.
Unlike some of the other services, Rhapsody introduces remarkably little lag between the time when you click the play button and the time when the song starts to play. Rhapsody's responsiveness makes the experience of listening to streaming music about as close as you can get to playing a song file that's on your PC's hard drive.
Rhapsody offers other innovative features for subscribers, too. Music fanatics can use the application's blog link to share playlists and to post comments about them.
Virgin Digital

Richard Branson's foray into streaming music, Virgin Digital promises a track count in the seven-figure range, more than any other service offers.
Virgin's streaming content comes from MusicNet, which also delivers content to competitors MusicNet@AOL and FYE. A sizable portion of the library permits streaming, but some of the tracks stream only 30-second preview segments. In those instances, you have to download the song before you can listen to it.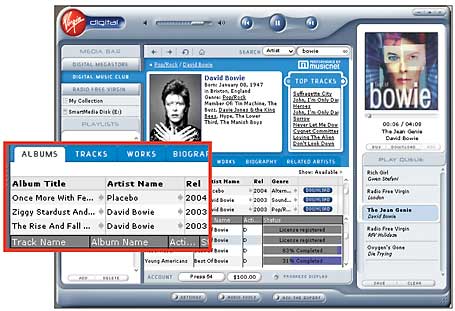 The downloaded music that you get as part of the subscription comes in Windows Media Audio, DRM-protected, format. The license permits you only to play tracks on your PC (as often as you like) for 30 days after the download.
Some of the music in Virgin's library has to be purchased separately, above and beyond the subscription fee; you can play the songs on most portable players, and you can burn them to CDs if you like.
We found Virgin's user interface rather byzantine, and its instructions were spartan: It took us a while to get used to how the app lists song data.
We had surprisingly little difficulty finding gaps in Virgin's vaunted million-song library. Unsuccessful searches yielded this brief response: "We looked and couldn't find anything. Sorry." At least the message was polite.
And although you can drill down through an artist's album list to individual songs, you can't drill up, so to speak, to browse the full list of every band or to count the available songs in any of Virgin's 19 top-level genre categories.