PDA Pundit: AvantGo Gets a Face-Lift
Web browsers for handhelds have come a long way, but they still have a long way to go to make sites designed for 800-by-600 PC monitors and Microsoft Internet Explorer palatable on Palm OS and Windows Mobile devices. For the time being, you're better off using services that package Web content for handheld consumption--something IAnywhere's AvantGo has excelled at for some five years.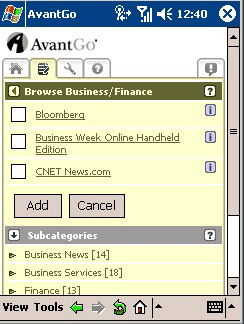 To get an idea of how well AvantGo has succeeded, you need only go to its home page, where you'll see an impressive collection of logos for major newspapers such as The New York Times; magazines, including PC World; and Web sites such as CNet--all of which use AvantGo to deliver their content to handheld owners. Delve a little further into the site and you find a mind-boggling selection of content providers. AvantGo says it now offers more than a thousand content channels, which in addition to publications include services such as Mapquest maps and movie listings.
But AvantGo hasn't been resting on its laurels: A newly released version, AvantGo '05, is optimized for mobile devices, making getting articles and other types of information faster and easier than ever. I tried out the new release on a PalmOne Treo 650 and was impressed by its look and speed.
Better for Wireless
When it started out, AvantGo could deliver content to handhelds only via desktop synchronization: You signed up online for the channels you wanted, and AvantGo refreshed the pages for each channel while you synced contacts, calendars, and the like. But for some time now, you've also been able to get new content via a wireless connection.
AvantGo '05, however, improves on previous versions by giving you more flexibility in obtaining updates via a wireless connection--and in a world where many of us pay for wireless data by the byte, this is a good thing. For example, you can now pick which of your channels you want to update, so you don't have to waste time and bandwidth downloading content that you don't want to check on immediately.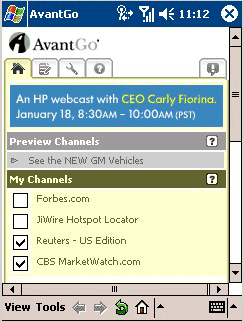 You can also manage your channel subscriptions from your handheld, either adding or removing ones you no longer want. You can search the channels in real time, and if you don't see what you want in a channel, you can browse the Web wirelessly from within the AvantGo client.
Looking Good
AvantGo's improvements aren't just about speed or functionality: The software itself has a new, contemporary look that you can customize by choosing from several fonts and color schemes. You can also customize the layout of your channels.
The new tabbed interface simplifies accessing different features, including a new Alerts page that delivers notices about your account or the service itself (for example, if a server is going down for maintenance). A Help tab provides access to tips and FAQs for each supported platform. There are quite a few, namely Palm OS 5, Pocket PC (2000, 2002, 2003), Symbian UIQ, and Symbian OS v.6.1 Series 60. Additionally, context-sensitive help seems to calm things down.
My main gripe with AvantGo: The channels can fill up the limited storage on some PDAs very quickly, which may require making some difficult choices. The Treo 650 I used to test AvantGo is known to have little available free space, and I had to give Business Week Online the boot from my four-channel lineup because I was running out of room to run applications.
Another small caveat: On some of my channels, the rendered fonts are so small that it is difficult to read the text. If you use reading glasses, keep them handy.
But these are minor quibbles about an otherwise terrific online content delivery system for handhelds. Best of all, AvantGo '05 is a free download. IAnywhere pays its bills by selling ads, which are admittedly annoying but at least have been formatted for the small screen. If you like to keep up with the world while you're on the move, you owe it to yourself to give AvantGo a whirl.
Shop Tech Products at Amazon