XP Goes to 64 Bits

The slow but inexorable march to 64-bit computing--the successor to familiar 32-bit x86-based technology, which has dominated the desktop world since the advent of Windows 95 almost a full decade ago--seems poised to speed up. Not only has Microsoft announced its plans to release its first 64-bit operating system for mainstream desktops, Windows XP Professional X64 Edition, by the middle of this year, but also the company has delivered its initial Release Candidate (RC1) of the operating system.
Microsoft has produced 64-bit OSs before, most recently Windows XP 64-Bit Edition for high-end workstations powered by Intel's Itanium CPU, but XP X64 is the first Windows OS designed for PCs based on 64-bit CPUs that can also run today's 32-bit apps--most notably AMD's 64-bit Athlons, which have been on the market since 2003. Only with a 64-bit OS and applications can early adopters enjoy everything 64-bit computing has to offer, including access to up to 16 terabytes of RAM. (RC1 supports only 32GB of RAM--Microsoft says that the shipping OS will support 128GB--as well as 16 terabytes of virtual memory, but that's still vastly greater than the 4GB maximum of today's 32-bit systems.) For users, that translates into greater speed: 64-bit apps won't have to swap large data sets between memory and disk, and will therefore be able to load and process the data faster and more efficiently than 32-bit programs can.
Commercial 64-bit native applications are not yet available, so we put RC1 through its paces with several popular current (32-bit) apps--and in general we were impressed. (Owners of 64-bit PCs can download RC1 from Microsoft's Web site.)
Originally conceived as a stripped-down version of Windows XP (an early beta looked more like Windows 2000), XP X64 was recast early last year after Microsoft concluded that X64-based PCs were likely to become mainstream by the latter part of 2005 (see "Intel, AMD Plan New 64-Bit Desktop CPUs"). Consequently, RC1 is a vast improvement over previous beta releases, offering most of the functionality of today's 32-bit Windows XP Pro with Service Pack 2 (SP2), including the Security Center and pop-up blocking in Internet Explorer. Windows XP X64 RC1 carries the 32-bit version of Windows Media Player 10, too.
Only a few technologies from today's XP are absent from the new OS. These include the 16-bit subsystem that enables DOS and 16-bit Windows applications to run, and legacy network protocols like AppleTalk and NetBEUI. "This is an opportunity to clean house on some of those items," says Brian Marr, senior product manager for Microsoft's Windows Client Group.
Because many 32-bit applications continue to use 16-bit installers, however, they can't be installed on XP X64. (Microsoft says that it's working with application makers to get 32-bit installers completed.)
XP X64 Has Familiar Look, Feel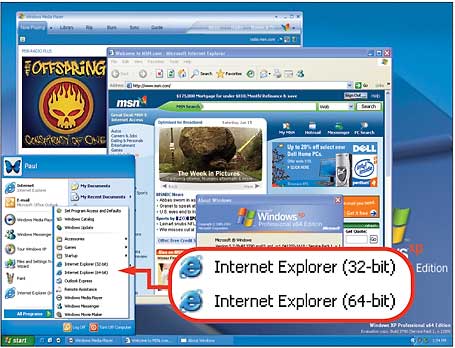 In use, XP X64 feels quite similar to 32-bit versions of Windows--with a few noteworthy exceptions. The Start menu, for example, has two renditions of Internet Explorer: a new 64-bit version and the same 32-bit version that Microsoft shipped in XP SP2. Why? Since 32-bit plug-ins for IE won't run in the 64-bit version, Microsoft had to retain the 32-bit version for people who want to keep using legacy IE add-ons, such as QuickTime or Google Toolbar.
From a performance perspective, XP X64 appears to work as well as 32-bit Windows XP Professional on the same hardware. With the OS and beta 64-bit drivers loaded on an Athlon 64-based Micro Express PC, 9 of the 13 tests in our WorldBench 5 benchmark suite ran without a hitch, and the other four failed to run only because of minor issues (most of them relating to license key validation). Results were generally close to those achieved by the same desktop running XP Pro: In some cases XP Pro was a bit faster, and in others XP X64 was quicker.
In my informal tests, however, a number of applications wouldn't install, including several programs from Microsoft. Some of these were applications that historically have been written for specific versions of Windows, such as PowerToys for Windows XP (including the highly practical Tweak UI) and most major antivirus and security packages. I also couldn't install the beta of MSN Toolbar Suite and the finished version of Photo Story 3. Office 2003 SP1 did install, but only after displaying a confusing error message.
How About Apps?
Of course, the biggest benefits of 64-bit computing can be realized only when applications capable of taking advantage of its huge memory resources appear. Several companies have offered vague promises about developing native 64-bit programs, but concrete plans are rarely available. NewTek says it will port its Emmy Award-winning LightWave 3D graphics and visual effects package to X64 sometime this year. Epic Games has pledged to release a 64-bit version of its Unreal Tournament 2004, but this has not yet materialized. Still, the crucial factor is mainstream application support from Microsoft, Adobe, and other top-tier vendors--and they're not talking on the record (though sources at Microsoft claim that a 64-bit version of Office will appear in 2006).
Hardware device drivers are another problem. Today's 32-bit drivers won't install on XP X64; and even though RC1 includes a wide range of drivers for popular devices, the absence of third-party drivers will torment many users of the new OS. I managed to find beta 64-bit drivers for my NVidia graphics card and for my Creative Labs sound card. But 64-bit drivers for other hardware, such as an HP scanner, simply aren't available.
Generally, XP X64 shapes up as a solid addition to the XP product line. But given the problems that many users are likely to encounter when attempting to install applications and drivers on XP X64, we advise caution to owners of 64-bit PCs who are thinking of getting the new OS. As the adage goes, if you need it, you probably already know that you need it. This year, the most likely beneficiaries of the transition are software developers, video professionals, designers, people who use scientific applications, and others who can take advantage of X64's large memory capacity. Even they may not see much of a performance boost, however, since most current 64-bit systems support the same amount of RAM as today's x86 PCs.
For people who do want to migrate to XP X64 when it ships, Microsoft plans to offer a Technology Exchange Program that will let customers who bought 64-bit PCs with Windows XP Pro swap that OS for XP X64. Details are still in flux, but Microsoft's Marr says the company intends to supply new Product Keys with the new OS and then deactivate the 32-bit Product Keys.
Note, though, that you will not be able to upgrade an XP Pro PC to XP X64: You can acquire XP X64 only as a clean install, which entails backing up your existing data, installing the OS from scratch, and then reinstalling your apps.
Chips: 64-Bit Milestones

The road to 64-bit desktop computing started with AMD's introduction of the Athlon 64 CPU, but the software to make it meaningful has been slow to arrive. Here are some past and projected future highlights:
AMD Athlon 64 desktop CPUs (September 2003)
Windows XP Professional X64 Edition (Spring 2005)
Intel X64 Pentium 4 (Spring 2005)
AMD Turion second-generation 64-bit notebook CPUs (Spring 2005)
Longhorn X64 (2006)
Processors: Intel, AMD Plan New 64-Bit Desktop CPUs

What's on tap for new PCs? 64-bit chips. When Microsoft's 64-bit desktop OS ships later this year, systems that run it should not be hard to find. Both AMD and--at long last--Intel plan to launch new 64-bit processors in the coming months, and later in the year each will roll out its first dual-core CPUs, which are also 64-bit.
Intel will make its first foray into the 64-bit desktop processor arena by spring, with a new line of high-end Pentium 4 CPUs based on the company's Extended Memory 64 Technology, according to Bill Kirby, the company's director of desktop marketing and strategic planning. The technology is already enabled in the company's Xeon server and workstation products. The new product line, which will come with several silicon-level enhancements, including a larger L2 cache, will carry the 600-series designation. By midyear, Intel plans to add 64-bit capabilities to its existing (and by then midrange) 500-series Pentium 4 CPUs, as well as to its 300-series budget Celeron D processors.
Though the processor giant expects to offer a top-to-bottom desktop lineup of 64-bit CPUs this year, it has no plans to market a 64-bit-capable mobile processor in 2005. The company simply doesn't see a demand for 64-bit notebooks yet, Kirby says.
AMD clearly disagrees. The chip maker, which began selling its Athlon 64 desktop CPUs in September 2003 and later added the Mobile AMD Athlon 64, is set to launch a new, second-generation 64-bit notebook CPU called the Turion by midyear. The new processor will be geared specifically toward thin-and-light notebooks, says Bahr Mahony, division marketing manager of AMD's mobile business segment.
Both AMD and Intel plan to debut 64-bit, dual-core desktop products this year. Essentially two CPUs in one, each with its own cache, dual-core processors should boost performance noticeably over today's CPUs without raising the level of heat-producing megahertz.
AMD plans to roll out its first dual-core desktop processors in the second half of the year. The company doesn't expect to offer a dual-core mobile CPU this year, however. Intel intends to launch its dual-core desktop processors sometime after midyear, and it expects to begin rolling out mobile products by year's end, with a full-scale launch in early 2006.
Tom Mainelli