HP Color LaserJet 5550n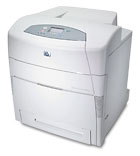 At $3549, the HP Color LaserJet 5550n is an expensive option for large workgroups that need to print color documents. But the high price tag gets you fast graphics speed and stellar print quality, making the 5550n a great choice for those who do a lot of color printing.
The 5550n earned high print-quality scores for every type of document we threw at it. Text looked sharp, with fine lettering, and all but the narrowest parallel lines were clean and straight. Black-and-white graphics also looked very good, with smooth transitions and lots of fine detail. Color graphics had great detail and colors that were rich and vibrant yet still realistic.
Speed was a mixed bag, however. The 5550n printed color graphics faster than any other corporate-level color laser we tested for the February issue, at 5.6 pages per minute. Its text-printing speed was average, though, at 16.4 ppm.
Setting up the Color LaserJet 5550n using Windows XP was as easy as connecting it to our Test Center's network; Windows automatically recognized the device, and we proceeded to set up the drivers. As we've seen with some other HP printers, setup of the 5550n took a fairly long time compared with that of its peers; HP does warn you, at least, about the long wait times during installation.
This model comes standard with two paper trays: a 500-sheet drawer and a 100-sheet multipurpose tray that holds paper as large as tabloid. Three optional, 500-sheet paper trays ($499 each) boost the count to a maximum of 2100 sheets. The device's standard 160MB of RAM is expandable to 544MB, and its 533-MHz processor should make network printing from numerous stations fairly painless. An optional 20GB hard drive ($479) can store watermarks or frequently used documents for printing straight from the console.
The 5550n handles big workloads, prints graphics quickly, and provides great image quality across the board, but it will cost you a chunk of change.
Lisa Cekan