Inexpensive Net-Box Stumbles on Setup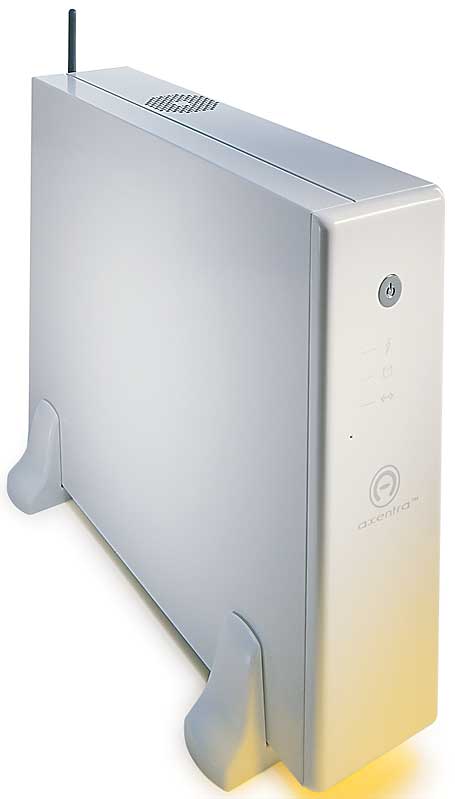 When you look at lots of technology products, you start to get suspicious of anything that promises to do too much. So imagine my skepticism about Axentra's $500 Net-Box H-70. Here's just a partial list of the Net-Box's features: network storage device, print server, wireless router, Web server, e-mail server, and photo-sharing site. Oh, and it doesn't care whether you use a Windows, Mac, or Linux computer.
Impossible, right? Well, not exactly. The Net-Box mostly delivers on its promises. The problem is that Axentra doesn't make setting up all this stuff any less complicated than it sounds. And after a few hours of struggling to get things to work, I started to wonder whether I really wanted the task of configuring my own Web server.
The shipping Net-Box I tested was essentially a dedicated Linux PC with an 80GB hard drive, two ethernet ports, and an integrated 802.11g Wi-Fi access point. The unit comes with one year of free domain hosting by registrar TZO.com so that you can use the Net-Box to serve your own site.
The Net-Box includes a wizard for setting up the whole system, but the wizard too often provides insufficient information, or abandons you outright, at critical junctures. For instance, in setting up the connection to my DSL account (Net-Box won't work with dial-up), the wizard presented me with four options, but no clear explanation of which one might apply to my situation. And after I set up my new domain, the wizard finished, without pointing out that--in order to use the domain--I would still need to enter the name into more than a dozen other administrative screens.
For someone who's interested in an Internet Swiss army knife--and willing to commit to a difficult learning curve--the Net-Box could be useful. But if you're looking for convenience, you'll probably have an easier time with individual pieces of hardware or with Web services that handle the specific tasks you most need.
Axentra Net-Box H-70
Linux-based box promises the world, but setup proves much too complicated.
Price when reviewed: $500
Current Prices (if available)