Take Your Software Anywhere
The Buzz: I love my USB keychain drive--I plug it in, and my data tags along wherever I go. Of course, if the host PC doesn't have the apps I need, I'm hosed. But now M-Systems and SanDisk have a solution. Dubbed U3, this hardware and software spec allows users to install common apps on a flash device and then use them anywhere. U3-compatible apps are self-launching, don't leave a telltale trace, and maintain users' personalized settings. Six partners--including ICQ and Mozilla--had jumped aboard the U3 bandwagon at press time, with more on the way. Fully loaded flash drives and downloadable U3 apps from a U3 Web portal should show up around midyear.
Bottom Line: Could flash keychains replace the ubiquitous AOL CD/coaster? Waste management specialists are bracing for the onslaught.
In Search of Video Search
The Buzz: If a picture is worth a thousand words, imagine what video--running at 30 frames a second--must be worth. Plenty, evidently, which is why Google, Yahoo, and others are now offering video search capabilities. Google's modest offering picks up feeds and closed-captioning from selected TV stations. Yahoo casts a wider net, supplementing TV broadcasts with videos culled from Net crawls; and feisty Blinkx offers the basics, plus sophisticated contextual searches.
Bottom Line: What a great idea. Now if only there were video content worth watching.
VoIP That Follows You Around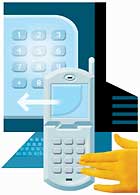 The Buzz: VoIP saves bucks, but the funky setup and complex infrastructure requirements spook some potential customers. A new service/software combo from Teleo could prove less scary. Teleo integrates with your PC (using either a regular phone or a headset) and can seamlessly route incoming calls between a cell phone, a standard telephone, and a computer, with no additional equipment required. It even works when you're traveling. And more impressive still, Teleo's $5-per-month service can find its way past pesky firewalls at hotels, Wi-Fi hotspots, and elsewhere.
Bottom Line: Teleo just might do for small-business VoIP service what the crowd-pleasing Skype did for consumers.