Page 7 of 9
Beta Update: Future Windows AntiSpyware Looks Like a Winner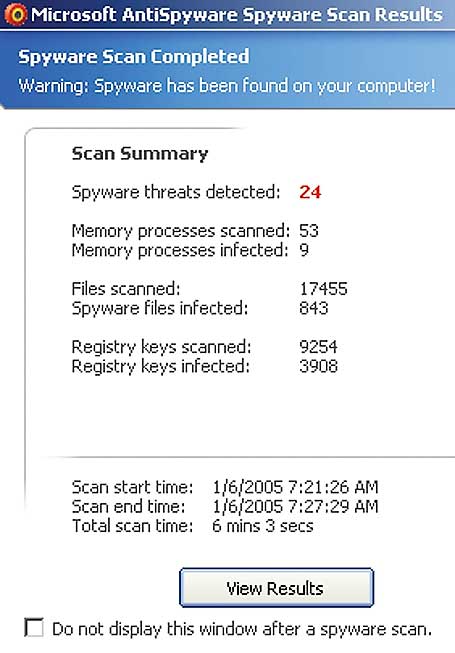 As we were completing testing for this story, Microsoft released a beta version of its new Windows AntiSpyware, the product formerly owned by Giant Software, which Microsoft acquired in December 2004. The beta turned in excellent results in our tests. Because its signature files were more up-to-date than those in the rest of the products, we didn't compare it directly with the others in this roundup; nonetheless, AntiSpyware looks like it will be a top-notch product when it's ready for shipping.
It was able to detect 91 percent of the adware/spyware in our test suite, including 96 percent of processes running in memory, 67 percent of home- or search-page modifications, 100 percent of BHOs and toolbars, 95 percent of Registry additions, and 100 percent of other items such as menus and buttons added to programs. The utility scanned our 2.7GB of data in less than 3 minutes. AntiSpyware's real-time monitoring stops infections by preventing changes to the browser home and search pages, identifying unknown processes in memory, blocking unauthorized edits to the Hosts file, and preventing changes to Registry run keys.
To counter browser home- and search-page hijackers, AntiSpyware can automatically reset the pages to the operating system defaults. You can also specify custom home and search pages by selecting Advanced Tools, Browser Hijack Restore. AntiSpyware will alert you to any attempts to change the designated pages from the custom or default settings. This is a better way to handle hijackers than the similar scheme of Webroot's Spy Sweeper, which restores the pages to the settings that were in place when Spy Sweeper was first installed. Read more on AntiSpyware.
Windows AntiSpyware boasts a clean, intuitive interface that is nearly identical in features and layout to that of Sunbelt Software's CounterSpy--an application that also makes use of Giant Software's spyware-signature technology. Unlike CounterSpy, AntiSpyware automatically ignores cookies as it scans--a refreshing change for those users who appreciate the automatic log-ins and site personalization features that cookies can provide.
Shop Tech Products at Amazon