Page 8 of 9
Protect Yourself Against Spyware: Change or Update Your Browse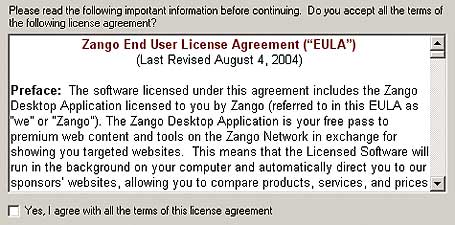 You can protect yourself from much spyware by switching from Internet Explorer to a different browser, such as Mozilla Firefox. Still, even alternative browsers have security vulnerabilities that can lead to trouble. And you'll face hassles with the few Web sites that don't function properly with browsers other than IE.
For people who don't want to switch, IE version 6 and later has default security settings to better protect against spyware. (For more on security settings in IE, visit Browser Security.) Upgrading to the latest version, keeping your PC patched (windowsupdate.microsoft.com), and being careful about installing unknown software will help avoid spyware.
At the PC World Spyware Help Center, you can research programs before you install them. For those you do choose to install, make sure you carefully read and understand the implications of the End User Licensing Agreement; it may warn you that it will load other programs. Finally, if you end up with spyware on your system, try the easy route first: Check the Windows Add or Remove Programs list to see if an uninstaller is provided.
Shop Tech Products at Amazon