PC Support on Call
As a PC World reader, you know a lot about fixing uppity computers. But from time to time, whether you're a hobbyist or a PC professional, you'll encounter a problem that's too big for just one person to handle.
Perhaps you know exactly how to repair the faulty computer, but the system is located hundreds or thousands of miles away, in a college dorm room or at a relative's home. Or it could be that you're too busy to spend the time researching and fixing the problem yourself. Whatever the reason, you need PC assistance, and you need it fast.
That's where the new breed of PC repair services can help. Promising service with a smile (like a 1950s-era gas station attendant), technical support experts bring professional expertise with Windows, applications, and problematic hardware to computer users, either in person or over the Internet.
In This Article
Self-Help Tips
Support Options
Knowing a little about the nature of your problem should help you decide whether to use an online service--one where you install software that lets a technician control (and fix) your PC over an Internet connection--or an on-site service company. Each type of service has advantages and weaknesses.
For instance, if speed is of the essence, an online support service can begin to diagnose and fix your problem almost immediately, as long as neither your problem nor its solution interferes with your Internet connection. In our tests, getting help online cost less than on-site service. We paid only for the minutes we were connected to a remote technician, which turned out, in this case, to cost considerably less than having a tech visit in person.
Besides costing more, on-site service requires you to set aside time for an appointment, usually within one to two business days of when you call. On the other hand, a technician sitting in front of a balky PC can solve far more complicated matters.
Small software problems that don't inhibit your ability to get on the Internet (issues such as reinstalling device drivers) are best handled by online support services, but overall, for spyware problems, we preferred to work with a competent on-site tech.
Test Prep
For this test, we used three unglamorous PCs of a kind still serving in many homes: Dell Dimension XPS T700r desktops, now more than three years old, running Windows 98.
We introduced a range of problems that we felt were fixable either on-site or online: We "lost" some important work files (by dragging them from the My Documents folder to another place on the hard drive); we deleted the graphics board's driver files; and we installed four common spyware apps. For the on-site technicians, we added a final, challenging test: a damaged IDE cable that prevented the CD-ROM drive from working.
We sent the sick PCs to reporters in three metropolitan areas: Boston; Austin, Texas; and Los Angeles. Our field operatives called four repair companies that make house calls: CompUSA, ComputerAssistant.com, GeeksOnTime, and Geek Squad (affiliated with Best Buy). One person also tried out three online service companies: PC Pinpoint, PlumChoice, and Tech24.
What's in a Fix?
Ideally, the techs would fix all the problems. But this was not always the way it worked out. As with most tech support, the results you get are largely dependent on the quality of the support person you end up working with. Even the best services have some PC wizards and some real duds--and we dealt with both. For example, some techs couldn't solve our spyware problem even though it's one of the main reasons people call for help.
Based on our experiences, among the on-site companies we have a slight preference for CompUSA's Technical Services. ComputerAssistant.com did a good job in Boston and Austin, but our experience in Los Angeles was so poor that we cannot fully recommend the company. Online, PC Pinpoint and PlumChoice both had smart, spyware-savvy techs on hand, but we liked PC Pinpoint a bit more because, unlike PlumChoice, it doesn't require you to make an appointment in advance.
On-Site Service: Desperate House Calls
You may fantasize that a technician can sprinkle magic dust on the PC to make it work again. But get a grip: The only dust you'll be seeing is the stuff inside your PC's case. If you book a house call from a service that charges by the hour, some problems could cause you to spend more on a fix than a new PC would cost.
Once we had an on-site service appointment, almost every technician showed up on time or early--but it's not always easy to land an appointment. Our reporters had to wait for one to three business days on average, but there were a couple hitches. For example, our tester in Los Angeles hounded ComputerAssistant.com for 12 days, without receiving a response, before finally getting an appointment. In other cities, this same company was responsive and sent out a service person within two days.
Whether you get a great tech or just a so-so one is a bit of a crapshoot, though most of the techs in our experiences were careful listeners. A few didn't communicate well, but those techs were in the minority. Except for Geek Squad, where everyone is on staff, the on-site support companies we tried hire locals on a contract basis. Bottom line: If you get a service person you don't like, don't just suffer them. Cut the appointment short, and then call the company and ask them to send someone else.
CompUSA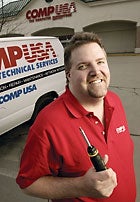 CompUSA's performance was mixed, but good overall. The techs who responded in Boston and Los Angeles were professional and thorough. Each technician brought along a personal toolkit. And at $149 (flat rate), the 1.5-hour service call was the most affordable of the house-call visits.
The results varied somewhat. The Boston tech clearly knew his stuff: He downloaded the drivers right away, and he installed a 30-day demo version of SpySweeper (a spyware remover that tends to be more accurate and thorough than the free Spybot tool some techs use). He also came tantalizingly close to solving the CD drive problem, but he never entirely succeeded.
The technician in Los Angeles left our reporter with a trial version of Panda Antivirus, which deleted the spyware handily, and he patiently explained how using a firewall and antivirus software could help prevent a future spyware infection on the PC.
However, the Austin tech didn't fix anything on our reporter's PC. At first, he tried fiddling with the display settings, but failed to figure out the graphics-driver problem. After spending a few more minutes examining the CD drive inside the PC, he offered only one option: Take the system in to the store for repairs. Otherwise, he said, the PC might be ready for trashing. He never installed any spyware-removal software, nor did he call for help. Though he helpfully suggested that we could apply the $149 on-site service fee toward in-store work, we declined his offer.
ComputerAssistant.com
The Boston technician from ComputerAssistant.com was a former IT director. He carefully solved all of the PC's problems in about 3 hours--and then billed our reporter for only 2. He also scavenged the cable from an old PC that was sitting around the house, thereby restoring the CD drive to working condition.
Similarly, in Austin the smart, professional ComputerAssistant.com technician asked a lot of questions. He volunteered to purchase a new IDE cable and come back to replace it the next day, and he stayed on the job for 2 full hours but billed for just 1.
Our reporter in Los Angeles had the worst experience with ComputerAssistant.com, but eventually it turned out okay. Over 12 days, our tester repeatedly left voice mail messages and filled out forms on the Web site, begging for an appointment. When someone finally came out, "he refused to correct anything unless I agreed to a complete Windows reinstall--an 8-hour job at $45 per hour," our reporter says. Later, the tech admitted that he was not one of the service's regular contractors; apparently, he was a friend of "Eddie," who decided to pass the gig along to his buddy.
Instead, we cajoled the dispatcher to send a different tech. The second technician showed up on time and fixed the PC promptly and professionally. In retrospect, demanding a different repair tech taught us another important lesson: You shouldn't accept the advice of a technician you don't trust, especially if the only repair proposed seems very expensive and time-consuming.
GeeksOnTime
At $90 an hour, GeeksOnTime provided little bang for our bucks. In Austin, our reporter said that the geek was "totally perplexed for an hour trying to find or restore the video driver."
Then the tech had to call a colleague to inspect the CD-ROM drive. Arriving 10 minutes later, the second tech took 30 minutes to decide (incorrectly) that the drive was broken and to recommend buying a new one. As part of our 3-hour ($170) investment, the geeks also failed to remove all the spyware: They ran Ad-Aware only, which left several spyware apps unquashed.
In L.A. a polite geek arrived and said, "I'm sick. I didn't sleep at all last night." Ugh. We had to wonder whether we might not contract a human virus the next day. (Thankfully, we didn't.) This tech came well prepared, with a case of tools and spare parts. He figured out the bad cable and installed a new one quickly. He also swiftly solved the graphics and file problems. He chose to install SpySweeper, and he left before it had finished running. Predictably, this program alone didn't catch everything.
We canceled our appointment with GeeksOnTime in Boston when we discovered that the GeeksOnTime tech assigned to our case had already scheduled an on-site visit with us on behalf of another repair company. (We couldn't confirm which one.)
Geek Squad
Best Buy's Geek Squad uses a secret agent theme in all of its communications. This seems funny at first, when you book an appointment with "Double Agent Joe." But you won't laugh later when you get the bill--this service option is among the most expensive we encountered in the course of our investigation.
Geek Squad charged $229 in Los Angeles and Boston, and $172 in Austin. (The company advertises spyware removal alone for $159.) But according to Geek Squad's president (aka "Chief Inspector"), Robert Stephens, you get more than a technician for the additional cost. He characterizes the company as a hospitality business, and says that technicians are trained not only in the technical skills needed, but in communication skills, punctuality, and even the small niceties: The tech in Boston wouldn't enter the house until he'd removed his messy snow boots.
How'd they do? In Los Angeles and Austin, okay but not great. When we set up the appointments, the Geek Squadders warned us that they often can't fix hardware problems, and they suggested that we might be better off taking the system in to the closest Best Buy store. Neither agent figured out the bad CD-ROM cable, but they weren't equipped to do so. In each instance, their (low-pressure) advice was the same: Buy a new drive, or take the PC to a store for repair. Give them points for sticking to the company line, but don't call Geek Squad if you think you have dead hardware.
After Geek Squad visited our reporters in Los Angeles and Austin, the reporters still had spyware on their PCs. The techs solved the lost-files and graphics problems, but we weren't happy about paying more than $200 and not ridding the test PCs of all the spyware. If we were their boss, we'd send 'em back to secret agent school.
In Boston, the technician demonstrated sophisticated knowledge and put in above-average effort, including a correct diagnosis of the bad IDE cable. He declared the spyware mess so bad that he recommended wiping the hard drive and reinstalling Windows 98. Since this was the last appointment, our reporter agreed, curious about how this approach would work compared with attempting a pick-and-choose file cleanup. The spyware disappeared completely, as hoped. More important, the Boston Geek Squad tech was incredibly dogged about returning the PC to good health. He spent approximately 5 hours rebuilding the OS and reinstalling system device drivers, and he made sure that everything functioned properly at the end of the day.
Repair Services: On-Site Repairs Best for Complex Problems
While they cost more than online repairs, fix-it services that send a technician to your home are more likely to succeed.
On-site service
Price1
Comments
CompUSA Technical Services

$150 (flat rate, per visit)
Good. While reporters in Los Angeles and Boston had generally positive experiences, our Austin reporter said the technician spent less than 30 minutes at her home and didn't fix anything. No technician figured out the CD-ROM drive cable problem; they all recommended replacing the drive.
ComputerAssistant.com

$89 for the first hour; additional hours $59 to $99
Fair. In Boston and Austin, technicians arrived on time and fixed the PCs (except for the CD-ROM drive) quickly. The tech in Austin even correctly diagnosed the drive cable, but didn't have a replacement. Our Los Angeles reporter tried for 12 days to book a tech, however, and the one he got did a terrible job.
GeeksOnTime

$85 for the first hour; subsequent service charges are prorated in 15-minute increments
Fair. In Austin, after about an hour the technician called for backup, and a second tech came out to help. The techs forgot to search for the missing files (despite being reminded twice) and couldn't fix the CD-ROM drive. In Los Angeles, the company offered a discount after inadvertently canceling the appointment.
Geek Squad

$129 to $229 (flat rate, depending on the type of service required)
Good. Our Boston experience was typical: The "Double Agent" arrived a bit early, listened carefully, and correctly diagnosed and repaired most of the problems. Geek Squad recommends that customers take their PC in to a Best Buy store for a hardware problem. In Austin, the tech failed to remove all of the spyware, and it reinfected the system after he left.
FOOTNOTE: 1 The rates and method of billing vary from service to service; when given a choice, we chose a rate plan suited to a single visit by a technician.
Online Repair: Proceed With Care
Instant help for a sick PC seems like a brilliant idea: Log on to a service, and have a technician fix your PC for you, using remote-control software. But we learned that in practice online repair is not all bliss.
Many online support companies charge you by remote-session time, and the grand total can get expensive quickly with a time-intensive computer problem, such as spyware: Tech24 charges $30 per half-hour and PlumChoice has different packages available, with the least expensive starting at $23 for 15 minutes.
PC Pinpoint, however, charges $75 for a one-year subscription to its daily, around-the-clock tech support service (the company offers both online chat and phone support), plus a diagnostic application and a fix-it-yourself database. If you can't solve your problem using the automated diagnostic tool, you pay a flat $25 fee for each remote-control session.
In our experience, for dealing with an ugly spyware situation, PC Pinpoint was the only smart choice of the three online services we tested. Conversely, for solving many typical Windows configuration or application problems, investing $23 in a 15-minute phone call to PlumChoice makes more financial sense.
PC Pinpoint

After our rough start using PC Pinpoint's diagnostic tool (it crashed and couldn't continue), a tech who answered our call for help pulled together a remarkably solid repair on our test PC.
Because we couldn't use the company's remote help applet, we were given a toll-free phone number to call. A PC Pinpoint tech answered the phone call almost immediately. Spyware was the culprit for the crashing diagnostic utility--a common problem, he said. By phone, the tech guided us through the steps of installing Ad-Aware and running a custom scan in Windows' Safe Mode. Once the most disruptive spyware was gone, the tech could take remote control of the PC without launching the problematic app. He installed HijackThis and Process Explorer--a utility he likened to a more rugged Windows Task Manager--and began a patient, manual spyware removal using Process Explorer, Ad-Aware, HijackThis, and the MS-DOS command-line console to get rid of adware files one at a time.
As the tech checked files, he sounded serene, as if there were nothing he'd rather be doing than picking through this PC's innards. Finally, he announced, "You're clean."
He whipped through the graphics-driver and lost-files problems in minutes. "I hope I don't hear from you again soon," he said good-naturedly. The guy even had a sense of humor.
Though we spent almost 3 hours on the phone, almost all of it was devoted to (successfully) correcting the spyware problem.
PlumChoice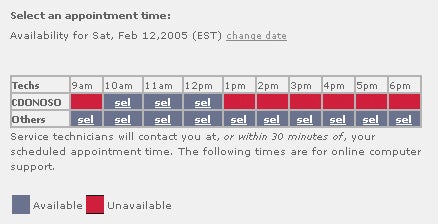 Unlike the other online services, PlumChoice required us to schedule an appointment with a representative in advance. At the appointed time, the rep called and guided us to the PlumChoice site for the remote session. The tech warned us that the PC was "grossly infected" and that a spyware cleanup might not work.
Fair enough--this guy was being honest. "If I can't fix it, I won't charge you," he said. We had him try the easier problems first. Within minutes, he downloaded and installed a new graphics driver from NVidia's site, and then he found the "lost" files.
The spyware remained. The PC looked awfully infected, he said, and since it was locking up, too, he suggested that the best course might be to reinstall Windows 98, or upgrade to XP, and then reinstall the apps. "This has reinstall written all over it," he said. He was trying hard to prevent us from wasting money. (When was the last time you felt that way at a car repair shop?)
Bottom Line: We'd recommend PlumChoice for any software difficulty other than a case of spyware infestation; solving time-intensive problems seemed cost-prohibitive. And even though our tester didn't cure the spyware problem, in view of the potentially high cost, we feel that the technician treated us fairly.
Tech24
During sign-up Tech24 clearly warned us that spyware and virus removal could "take several hours." We pressed on, and in minutes a rep took control of the PC. But after a few minutes of watching the rep move the mouse, we saw nothing. As we wondered whether the PC had frozen, a dialog box appeared: "Your session is over. We hope your real-time session was helpful." Not exactly: The guy hadn't actually done anything.
After a reboot, we reconnected, and this same tech dropped Ad-Aware Personal Edition onto the PC. He told us to hang up, install the program, and then run a scan, so as not to rack up billable minutes while the scan ran. It sounded fair, but the tech didn't tell us which type of scan (Ad-Aware offers two) to specify. He also didn't mention running the scan in Safe Mode, a detail that meant the difference between success and failure.
The experience didn't get better. The PC continually froze up, and we never even got to the other two problems. After about 4 hours of getting nowhere, we washed our hands of Tech24.
Repair Services: Online Services Better Suited to Simple Fixes
Spyware infestations and problems that inhibit Internet connectivity can stymie online service technicians.
| | | |
| --- | --- | --- |
| Online service | Price | Comments |
| PC Pinpoint | An annual subscription costs $75; then each remote-control session costs a flat $25 | Very Good. The support techs were helpful and extremely patient, and they provided instructions that allowed our reporter to conduct some of the repairs herself, offline. When the anti-spyware scans failed to remove the offending programs, a tech carefully removed the spyware manually, leaving the computer fully repaired. |
| PlumChoice | $23 per 15 minutes | Very Good. Online service requires an appointment, following a call with an operator who takes down details of your PC problems. Techs were friendly and knowledgeable, recommending that our reporter reinstall Windows (or upgrade to XP) rather than pay a costly hourly rate to repair the PC. |
| Tech24 | $30 per 30 minutes | Unacceptable. Technicians were generally uncommunicative and didn't ask what our reporter's highest priority was before installing anti-spyware software on the test PC. The technicians failed to remove the spyware, and the tool they installed left the system less stable than it was before the service call. |
Parting Lessons
We learned some important lessons from our online PC repair experiences. First, as common as spyware is, it poses a unique repair conundrum for online support: The computer may be too flaky for online repair to work.
For smaller problems, PlumChoice is an affordable option at $23 for 15 minutes or $46 for a half-hour. Given the knowledgeable, honest representatives we encountered at PlumChoice and PC Pinpoint, we would advise against paying for on-site support if you just need to resolve small glitches.
On the other hand, if you're the "safe bet" type, or if a serious spyware problem confronts you, PC Pinpoint delivers a good deal at $75 for a yearlong subscription to its 24/7 tech support, plus $25 per remote-control session. Remember, the $25 we invested on top of our subscription bought us 3 hours with a fantastic rep. And a good support technician is worth far more than that.
Self-Help Tips: Clean Your Windows
If you prefer to handle the big Windows fixes yourself, you'll need the best troubleshooting resources you can find. Here are a few of our favorite sites (including forums), utilities, and books.
Web Sites
Utilities
Process Explorer (free): Lists all running programs and DLLs.
Registry Mechanic 4 ($30): This application from PC Tools Software inspects the health of your PC's Windows Registry and helps you deal with troublesome or unnecessary entries that breed crashes and errors.
WinPatrol 8.1 (free): Close the door to spyware, adware, and other nasty invaders that may hijack your browser (or do worse than that). The paid version gives you additional information about the intrusive software it finds.
XPLite and 2000Lite 1.5 ($40): LitePC's utilities (including its $25 98lite Professional 4.7) enable you to decipher various mysteries of Windows, allow you to tweak the OS for performance, and help you save disk space.
Books
50 Fast Windows XP Techniques by Keith Underdahl ($25, Wiley Publishing)
Special Edition Using Microsoft Windows XP (3rd Edition) by Robert Cowart and Brian Knittel ($45, Que Publishing)
Windows XP Pro: The Missing Manual (2nd Edition) by David Pogue, Craig Zacker, and L.J. Zacker ($30, O'Reilly & Associates)
Self-Help Tips: Networking and Broadband Help
Feeling twisted as you try to troubleshoot a broadband connection or home network? Try these sites, tools, and books.
Web Sites
Practically Networked: Don't start a project without consulting a tutorial, troubleshooting guide, or forum at this useful site.
Wi-Fi Planet Forums: Wi-Fi Planet delivers a good collection of tutorials and advice from savvy wireless users on a wide array of topics such as security, standards, and troubleshooting.
Tom's Networking: Computer geeks know about Tom's Hardware, but wireless users should get to know Tom's Networking. The dedicated site provides troubleshooting tips on basic network setups, and its reviews dig deeper into the technical details of how specific networking products work.
Utilities
NetStumbler (free): Got Wi-Fi? This helpful program diagnoses wireless trouble, pinpoints security weaknesses, and helps you find strong hotspots.
SuperScan 4 (free): SuperScan probes your network to let you know which PCs are vulnerable to hackers or viruses.
Books
Absolute Beginner's Guide to Home Networking by Mark Edward Soper ($17, Que Publishing)
Absolute Beginner's Guide to Wi-Fi Wireless Networking by Harold Davis ($17, Que Publishing)
How to Do Everything With Windows XP Home Networking by Dave Field and Andrew Brandt ($25, Osborne)
The Wireless Networking Starter Kit (2nd Edition) by Adam Engst and Glenn Fleishman ($27, Peachpit Press)
Self-Help Tips: The Inside Story
Not all PC parts are created equal. Learn about the innards of your PC, track down potential sources of trouble, and improve your PC's pep with these sites, tools, and books.
Web Sites
Utilities
Lavalys Everest Home Edition (free): This thorough system information and diagnostic utility tells you all about the components inside your computer and tests your system for possible gotchas (like a broken fan or hard drive).
SiSoftware Sandra Lite ($35): Besides detailing the minutiae inside your PC, this utility diagnoses possible ills and can benchmark your computer.
System Mechanic 5 ($50): This veteran utility from Iolo Technologies isn't cheap, but it gives you a powerful all-in-one tool for jobs like Registry cleanup, file deletion, and software uninstalls.
Books
PC Annoyances by PC World contributing editor and columnist Steve Bass ($20, O'Reilly & Associates)
PC Hardware in a Nutshell (3rd Edition) by Robert Bruce Thompson and Barbara Fritchman Thompson ($20, O'Reilly & Associates)
Upgrading and Repairing PCs (16th Edition) by Scott Mueller ($60, Que Publishing)