Page 3 of 8
On-Site Service: Desperate House Calls
You may fantasize that a technician can sprinkle magic dust on the PC to make it work again. But get a grip: The only dust you'll be seeing is the stuff inside your PC's case. If you book a house call from a service that charges by the hour, some problems could cause you to spend more on a fix than a new PC would cost.
Once we had an on-site service appointment, almost every technician showed up on time or early--but it's not always easy to land an appointment. Our reporters had to wait for one to three business days on average, but there were a couple hitches. For example, our tester in Los Angeles hounded ComputerAssistant.com for 12 days, without receiving a response, before finally getting an appointment. In other cities, this same company was responsive and sent out a service person within two days.
Whether you get a great tech or just a so-so one is a bit of a crapshoot, though most of the techs in our experiences were careful listeners. A few didn't communicate well, but those techs were in the minority. Except for Geek Squad, where everyone is on staff, the on-site support companies we tried hire locals on a contract basis. Bottom line: If you get a service person you don't like, don't just suffer them. Cut the appointment short, and then call the company and ask them to send someone else.
CompUSA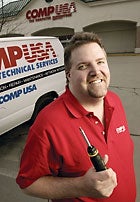 CompUSA's performance was mixed, but good overall. The techs who responded in Boston and Los Angeles were professional and thorough. Each technician brought along a personal toolkit. And at $149 (flat rate), the 1.5-hour service call was the most affordable of the house-call visits.
The results varied somewhat. The Boston tech clearly knew his stuff: He downloaded the drivers right away, and he installed a 30-day demo version of SpySweeper (a spyware remover that tends to be more accurate and thorough than the free Spybot tool some techs use). He also came tantalizingly close to solving the CD drive problem, but he never entirely succeeded.
The technician in Los Angeles left our reporter with a trial version of Panda Antivirus, which deleted the spyware handily, and he patiently explained how using a firewall and antivirus software could help prevent a future spyware infection on the PC.
However, the Austin tech didn't fix anything on our reporter's PC. At first, he tried fiddling with the display settings, but failed to figure out the graphics-driver problem. After spending a few more minutes examining the CD drive inside the PC, he offered only one option: Take the system in to the store for repairs. Otherwise, he said, the PC might be ready for trashing. He never installed any spyware-removal software, nor did he call for help. Though he helpfully suggested that we could apply the $149 on-site service fee toward in-store work, we declined his offer.
ComputerAssistant.com
The Boston technician from ComputerAssistant.com was a former IT director. He carefully solved all of the PC's problems in about 3 hours--and then billed our reporter for only 2. He also scavenged the cable from an old PC that was sitting around the house, thereby restoring the CD drive to working condition.
Similarly, in Austin the smart, professional ComputerAssistant.com technician asked a lot of questions. He volunteered to purchase a new IDE cable and come back to replace it the next day, and he stayed on the job for 2 full hours but billed for just 1.
Our reporter in Los Angeles had the worst experience with ComputerAssistant.com, but eventually it turned out okay. Over 12 days, our tester repeatedly left voice mail messages and filled out forms on the Web site, begging for an appointment. When someone finally came out, "he refused to correct anything unless I agreed to a complete Windows reinstall--an 8-hour job at $45 per hour," our reporter says. Later, the tech admitted that he was not one of the service's regular contractors; apparently, he was a friend of "Eddie," who decided to pass the gig along to his buddy.
Instead, we cajoled the dispatcher to send a different tech. The second technician showed up on time and fixed the PC promptly and professionally. In retrospect, demanding a different repair tech taught us another important lesson: You shouldn't accept the advice of a technician you don't trust, especially if the only repair proposed seems very expensive and time-consuming.
GeeksOnTime
At $90 an hour, GeeksOnTime provided little bang for our bucks. In Austin, our reporter said that the geek was "totally perplexed for an hour trying to find or restore the video driver."
Then the tech had to call a colleague to inspect the CD-ROM drive. Arriving 10 minutes later, the second tech took 30 minutes to decide (incorrectly) that the drive was broken and to recommend buying a new one. As part of our 3-hour ($170) investment, the geeks also failed to remove all the spyware: They ran Ad-Aware only, which left several spyware apps unquashed.
In L.A. a polite geek arrived and said, "I'm sick. I didn't sleep at all last night." Ugh. We had to wonder whether we might not contract a human virus the next day. (Thankfully, we didn't.) This tech came well prepared, with a case of tools and spare parts. He figured out the bad cable and installed a new one quickly. He also swiftly solved the graphics and file problems. He chose to install SpySweeper, and he left before it had finished running. Predictably, this program alone didn't catch everything.
We canceled our appointment with GeeksOnTime in Boston when we discovered that the GeeksOnTime tech assigned to our case had already scheduled an on-site visit with us on behalf of another repair company. (We couldn't confirm which one.)
Geek Squad
Best Buy's Geek Squad uses a secret agent theme in all of its communications. This seems funny at first, when you book an appointment with "Double Agent Joe." But you won't laugh later when you get the bill--this service option is among the most expensive we encountered in the course of our investigation.
Geek Squad charged $229 in Los Angeles and Boston, and $172 in Austin. (The company advertises spyware removal alone for $159.) But according to Geek Squad's president (aka "Chief Inspector"), Robert Stephens, you get more than a technician for the additional cost. He characterizes the company as a hospitality business, and says that technicians are trained not only in the technical skills needed, but in communication skills, punctuality, and even the small niceties: The tech in Boston wouldn't enter the house until he'd removed his messy snow boots.
How'd they do? In Los Angeles and Austin, okay but not great. When we set up the appointments, the Geek Squadders warned us that they often can't fix hardware problems, and they suggested that we might be better off taking the system in to the closest Best Buy store. Neither agent figured out the bad CD-ROM cable, but they weren't equipped to do so. In each instance, their (low-pressure) advice was the same: Buy a new drive, or take the PC to a store for repair. Give them points for sticking to the company line, but don't call Geek Squad if you think you have dead hardware.
After Geek Squad visited our reporters in Los Angeles and Austin, the reporters still had spyware on their PCs. The techs solved the lost-files and graphics problems, but we weren't happy about paying more than $200 and not ridding the test PCs of all the spyware. If we were their boss, we'd send 'em back to secret agent school.
In Boston, the technician demonstrated sophisticated knowledge and put in above-average effort, including a correct diagnosis of the bad IDE cable. He declared the spyware mess so bad that he recommended wiping the hard drive and reinstalling Windows 98. Since this was the last appointment, our reporter agreed, curious about how this approach would work compared with attempting a pick-and-choose file cleanup. The spyware disappeared completely, as hoped. More important, the Boston Geek Squad tech was incredibly dogged about returning the PC to good health. He spent approximately 5 hours rebuilding the OS and reinstalling system device drivers, and he made sure that everything functioned properly at the end of the day.
Repair Services: On-Site Repairs Best for Complex Problems
While they cost more than online repairs, fix-it services that send a technician to your home are more likely to succeed.
On-site service
Price1
Comments
CompUSA Technical Services

$150 (flat rate, per visit)
Good. While reporters in Los Angeles and Boston had generally positive experiences, our Austin reporter said the technician spent less than 30 minutes at her home and didn't fix anything. No technician figured out the CD-ROM drive cable problem; they all recommended replacing the drive.
ComputerAssistant.com

$89 for the first hour; additional hours $59 to $99
Fair. In Boston and Austin, technicians arrived on time and fixed the PCs (except for the CD-ROM drive) quickly. The tech in Austin even correctly diagnosed the drive cable, but didn't have a replacement. Our Los Angeles reporter tried for 12 days to book a tech, however, and the one he got did a terrible job.
GeeksOnTime

$85 for the first hour; subsequent service charges are prorated in 15-minute increments
Fair. In Austin, after about an hour the technician called for backup, and a second tech came out to help. The techs forgot to search for the missing files (despite being reminded twice) and couldn't fix the CD-ROM drive. In Los Angeles, the company offered a discount after inadvertently canceling the appointment.
Geek Squad

$129 to $229 (flat rate, depending on the type of service required)
Good. Our Boston experience was typical: The "Double Agent" arrived a bit early, listened carefully, and correctly diagnosed and repaired most of the problems. Geek Squad recommends that customers take their PC in to a Best Buy store for a hardware problem. In Austin, the tech failed to remove all of the spyware, and it reinfected the system after he left.
FOOTNOTE: 1 The rates and method of billing vary from service to service; when given a choice, we chose a rate plan suited to a single visit by a technician.
Shop Tech Products at Amazon