Page 4 of 8
Online Repair: Proceed With Care
Instant help for a sick PC seems like a brilliant idea: Log on to a service, and have a technician fix your PC for you, using remote-control software. But we learned that in practice online repair is not all bliss.
Many online support companies charge you by remote-session time, and the grand total can get expensive quickly with a time-intensive computer problem, such as spyware: Tech24 charges $30 per half-hour and PlumChoice has different packages available, with the least expensive starting at $23 for 15 minutes.
PC Pinpoint, however, charges $75 for a one-year subscription to its daily, around-the-clock tech support service (the company offers both online chat and phone support), plus a diagnostic application and a fix-it-yourself database. If you can't solve your problem using the automated diagnostic tool, you pay a flat $25 fee for each remote-control session.
In our experience, for dealing with an ugly spyware situation, PC Pinpoint was the only smart choice of the three online services we tested. Conversely, for solving many typical Windows configuration or application problems, investing $23 in a 15-minute phone call to PlumChoice makes more financial sense.
PC Pinpoint

After our rough start using PC Pinpoint's diagnostic tool (it crashed and couldn't continue), a tech who answered our call for help pulled together a remarkably solid repair on our test PC.
Because we couldn't use the company's remote help applet, we were given a toll-free phone number to call. A PC Pinpoint tech answered the phone call almost immediately. Spyware was the culprit for the crashing diagnostic utility--a common problem, he said. By phone, the tech guided us through the steps of installing Ad-Aware and running a custom scan in Windows' Safe Mode. Once the most disruptive spyware was gone, the tech could take remote control of the PC without launching the problematic app. He installed HijackThis and Process Explorer--a utility he likened to a more rugged Windows Task Manager--and began a patient, manual spyware removal using Process Explorer, Ad-Aware, HijackThis, and the MS-DOS command-line console to get rid of adware files one at a time.
As the tech checked files, he sounded serene, as if there were nothing he'd rather be doing than picking through this PC's innards. Finally, he announced, "You're clean."
He whipped through the graphics-driver and lost-files problems in minutes. "I hope I don't hear from you again soon," he said good-naturedly. The guy even had a sense of humor.
Though we spent almost 3 hours on the phone, almost all of it was devoted to (successfully) correcting the spyware problem.
PlumChoice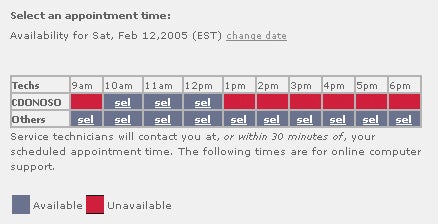 Unlike the other online services, PlumChoice required us to schedule an appointment with a representative in advance. At the appointed time, the rep called and guided us to the PlumChoice site for the remote session. The tech warned us that the PC was "grossly infected" and that a spyware cleanup might not work.
Fair enough--this guy was being honest. "If I can't fix it, I won't charge you," he said. We had him try the easier problems first. Within minutes, he downloaded and installed a new graphics driver from NVidia's site, and then he found the "lost" files.
The spyware remained. The PC looked awfully infected, he said, and since it was locking up, too, he suggested that the best course might be to reinstall Windows 98, or upgrade to XP, and then reinstall the apps. "This has reinstall written all over it," he said. He was trying hard to prevent us from wasting money. (When was the last time you felt that way at a car repair shop?)
Bottom Line: We'd recommend PlumChoice for any software difficulty other than a case of spyware infestation; solving time-intensive problems seemed cost-prohibitive. And even though our tester didn't cure the spyware problem, in view of the potentially high cost, we feel that the technician treated us fairly.
Tech24
During sign-up Tech24 clearly warned us that spyware and virus removal could "take several hours." We pressed on, and in minutes a rep took control of the PC. But after a few minutes of watching the rep move the mouse, we saw nothing. As we wondered whether the PC had frozen, a dialog box appeared: "Your session is over. We hope your real-time session was helpful." Not exactly: The guy hadn't actually done anything.
After a reboot, we reconnected, and this same tech dropped Ad-Aware Personal Edition onto the PC. He told us to hang up, install the program, and then run a scan, so as not to rack up billable minutes while the scan ran. It sounded fair, but the tech didn't tell us which type of scan (Ad-Aware offers two) to specify. He also didn't mention running the scan in Safe Mode, a detail that meant the difference between success and failure.
The experience didn't get better. The PC continually froze up, and we never even got to the other two problems. After about 4 hours of getting nowhere, we washed our hands of Tech24.
Repair Services: Online Services Better Suited to Simple Fixes
Spyware infestations and problems that inhibit Internet connectivity can stymie online service technicians.
| | | |
| --- | --- | --- |
| Online service | Price | Comments |
| PC Pinpoint | An annual subscription costs $75; then each remote-control session costs a flat $25 | Very Good. The support techs were helpful and extremely patient, and they provided instructions that allowed our reporter to conduct some of the repairs herself, offline. When the anti-spyware scans failed to remove the offending programs, a tech carefully removed the spyware manually, leaving the computer fully repaired. |
| PlumChoice | $23 per 15 minutes | Very Good. Online service requires an appointment, following a call with an operator who takes down details of your PC problems. Techs were friendly and knowledgeable, recommending that our reporter reinstall Windows (or upgrade to XP) rather than pay a costly hourly rate to repair the PC. |
| Tech24 | $30 per 30 minutes | Unacceptable. Technicians were generally uncommunicative and didn't ask what our reporter's highest priority was before installing anti-spyware software on the test PC. The technicians failed to remove the spyware, and the tool they installed left the system less stable than it was before the service call. |
Shop Tech Products at Amazon