Download This: Make Your Desktop Look Marvelous
You spend hours staring at your PC's monitor, so it should work with you instead of assaulting your optic nerves. Changing the desktop wallpaper might not be enough. With the right programs, you can navigate your PC's desktop and the Web more smoothly, reducing strain on your eyes and on your mouse hand. This month, I look at a Web viewing tool and a desktop enhancement program.
Introducing the Incredible, Legible Web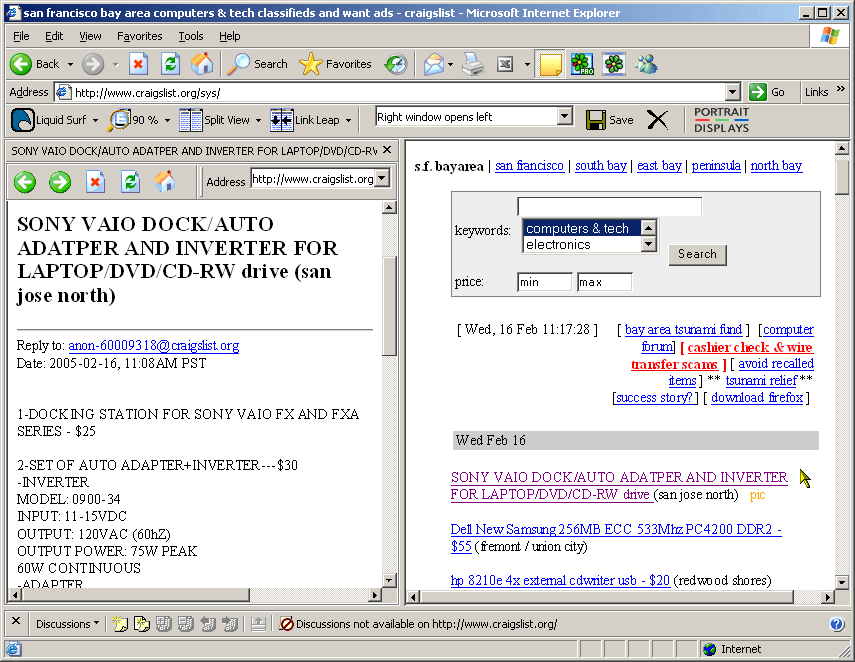 Wise readers check the fine print, but some Web pages employ illegibly small fonts. Some pages link to other pages that link to still other pages, making backtracking awkward. Some pages stretch on for screen after screen, ensuring that your eyes will be glazed over when (and if) you reach the information you seek. Liquid Surf, a plug-in for Microsoft's Internet Explorer, can adjust the size, layout, and link-opening preferences on any Web page.
Liquid Surf installs its own IE toolbar. One pull-down menu lets you choose the size of the fonts and images. If the type induces squinting, pump the font up to 110 percent--or heck, 250 percent. If massive logos and other skimmable fluff are making you scroll too much, downsize the font to 75 percent and cut to the heart of the matter.
Another pull-down menu offers the choice of Full View, Extended View, or Split View. In the default Full View, pages look the same as ever. Extended View divides the window into halves, displaying one screen's worth on the left and the next screen's worth on the right--very handy for reading long articles. Split View displays two different panes: You can keep the same page in both, or you can scan two different pages simultaneously. With Split View's Link Leap function, you can instruct one pane to open links in the other.
Liquid Surf's vendor, Portrait Displays--best known as the company behind Pivot Pro screen-rotation software--offers a 30-day free trial. The program costs $20 after the trial expires, or you can pay $30 to get it on CD-ROM.
Dress Up Your Desktop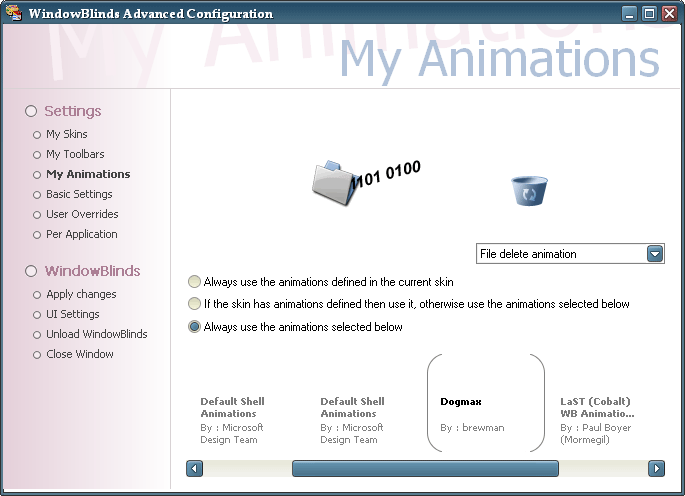 There's no reason to leave your PC decorated in Microsoft Modern. Put the "personal" back in personal computing with the new version of WindowBlinds, a tool that lets you change the look of your desktop, from the taskbar color down to the font in pull-down menus.
WindowBlinds lets you apply themes to your desktop and to many programs. It's similar to adding a skin to an MP3 player or using the Windows XP visual style engine. Stardock, maker of WindowBlinds, offers free and for-pay themes at its Web site.
Stardock is quick to point out that WindowBlinds differs from skinning apps in that it handles the painting natively within an application, not by slapping a skin on top of it. Stardock claims that, with most themes, XP runs faster with WindowBlinds installed than without it.
If you're not completely happy with a theme, you can change many aspects of it. For instance, I liked the blue-green color and gentle shading of the provided SouLuna skin, but I didn't care for its sans serif font. With the user override options, I changed the font and bumped up its size by 50 percent to make it easier to read. The $20 enhanced version of WindowBlinds lets you change the color tones as well, giving your desktop a fresh look and a completely different mood.
Like XP's visual style engine, the free version of WindowBlinds affects theme-aware applications only--and that means it can't completely change the look of every program. For instance, when I applied the SouLuna skin, it changed the toolbar icons in IE, but not the ones in Mozilla Firefox. However, it did change the color of the scroll bars in both of them.
To apply themes to almost all applications, spring for the $20 enhanced version. In addition to the color-shifting mentioned above, this version lets you change desktop animations. It may not be an essential feature, but it's a pleasant break from all those years of watching white papers fly between yellow folders.
If you just can't get enough of WindowBlinds, check out Stardock's $50 Object Desktop suite, which bundles WindowBlinds with visual style creator SkinStudio and other related programs. There's no free trial, so you might want to accustom yourself to the free version of WindowBlinds before taking the plunge.
Shop Tech Products at Amazon