LG Monitor Always Lands on Its Feet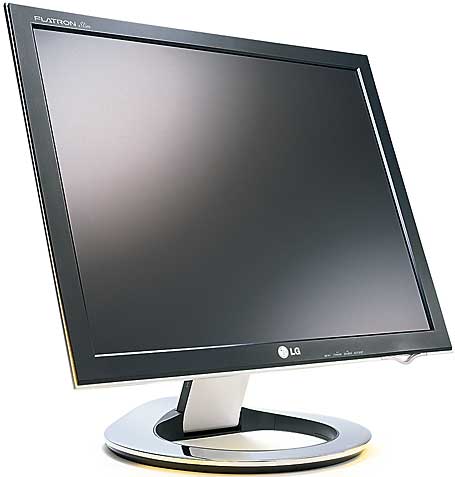 When was the last time technology did backbends for you? LG Electronics' dual-hinged Flatron L1980U 19-inch LCD monitor can both bend backward and rotate up to 270 degrees, all while keeping the image right side up. The Flatron L1980U includes Portrait Displays' ForteManager software, which uses Auto Pivot and the innovative Auto Mirror feature to rotate or flip the image on the screen.
This improved ease of use lets you pivot at your whim--to see more of a document, perhaps, or to read a Web page without having to scroll excessively. Previous pivoting software, such as PivotPro, required you to rotate the screen and then dive into the software menus for settings to instruct the image to catch up with the changes.
The L1980U has a streamlined appearance, and all of the cords plug in at the back of the bright-silver, ring-shaped stand. The position of the power button is awkward and took some getting used to: I inadvertently turned off the L1980U several times while flipping the screen. In addition, the display lacks a ruler-straight edge, which would allow dual-monitor aficionados to line up two pivoted monitors side-by-side.
Although the L1980U's screen looks pleasing, we've seen sharper text and more realistic flesh tones on other comparably priced LCDs. Still, the reasonable $549 price is nothing to complain about; and if you're itching to get your hands on a monitor with Auto Pivot and Auto Mirror functions, the L1980U may be just what you need. For my part, I'm willing to hold out for a monitor with all these bonuses, as well as a klutzproof "on" button.
LG Electronics Flatron L1980U
If you need a monitor that keeps up with your every move, give this sleek stunner a whirl.
Street: $549
Current Price (if available)
Shop Tech Products at Amazon