Battle of the Boards
NForce4 Setups Perform Best in Multitasking
WorldBench 5 does a great job of measuring the performance of an entire PC system--not just a single component--on a wide range of common computing tasks. For this story, we kept all of the peripheral components the same, in order to isolate the motherboard's performance. We saw fairly uniform results on most sections of the test, except in the multitasking section, which features simultaneous Mozilla Web browsing and Windows Media Encoding. There we found more-significant differences, including an 8 percent spread between the first- and last-place Athlon boards, MSI's K8N Neo4 Platinum/SLI and Asus's A8V-E Deluxe. The Asus has a Via chip set, while the top finishers all have one of NVidia's NForce4 chip sets.
The Intel Pentium 4 boards also registered a 7 percent spread between the top-dog Asus P5AD2-E Premium and the tail-end Intel D915PBL in the multitasking section. Some 925XE-based boards ended up near the bottom of the pack as well.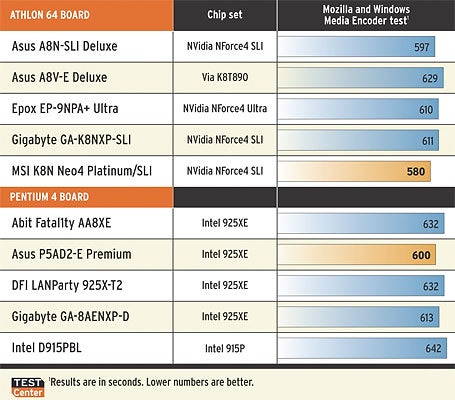 What's the Next Step?
Once you've got the perfect motherboard picked out, it's time to start finding components for your new or upgraded PC. For more advice on what to choose and how to put it all together, see "
Your Ideal PC
." And for continuing coverage of all things related to PC building, see Tom Mainelli's
GeekTech column
.

Amazon Shop buttons are programmatically attached to all reviews, regardless of products' final review scores. Our parent company, IDG, receives advertisement revenue for shopping activity generated by the links. Because the buttons are attached programmatically, they should not be interpreted as editorial endorsements.