Page 10 of 10
Windows Tips
Troubleshooter's Time Machine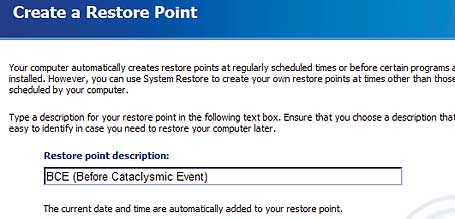 System Restore for Windows Me and Windows XP takes a snapshot of your system settings and data files and stashes it on the hard disk for later retrieval. System Restore can whisk your PC back to the moment before disaster struck, though it won't always fix the problem. To use System Restore, click Start,All Programs,Accessories,System Tools,System Restore, and then follow the wizard either to load a previous Restore Point profile or to save a new one to the drive manually. No, System Restore won't magically repair hard disks or make a dead Windows installation work, but it can eliminate many application- and driver-borne conflicts.
Setting Limits on Spyware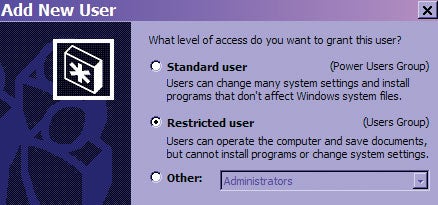 You can stymie spyware by using a restricted user account, which limits your (and the malware's) ability to alter the system and install applications. To create such an account, click Start,Control Panel and open User Accounts. Click Create a new account, enter a user name, and click Next. Select the Restricted user radio button and click Create Account, and the new account will appear in the User Accounts window under 'or pick an account to change'. Click the new entry and make whatever changes you need to complete the account. Log on to Windows XP with this account for day-to-day Internet surfing and document editing. When you do need to install software, just log out and then log back in as an administrator. Also, confirm that the Guest Account is set to 'Off' (Windows should do this by default).
Diagnostics: Digging Deep

Before you buy a system diagnostic tool, check out the System Information utility that comes with Windows XP. Click Start,Programs,Accessories,System Information for a wealth of details about your hardware, software, and system components. You won't get access to everything that the PC Wizard 2005 utility (at right) makes available, but the System History command under the Tools menu displays changes to such system resources as hardware memory addresses and Registry key locations. Use the Net Diagnostics tools in the Tools menu to test and troubleshoot your network connection.
Ramping up Performance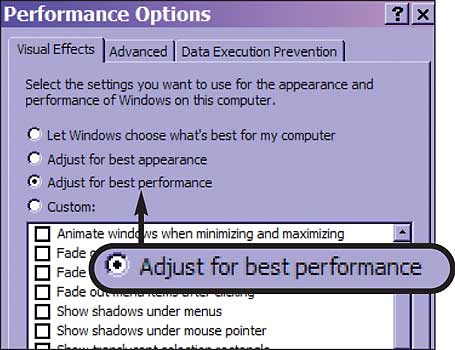 Increase your PC's pep by turning off Windows XP's desktop eye candy--for example, its translucent and animated menu elements. Right-click My Computer, select Properties, click the Advanced tab, and click the Settings button in the Performance area. On the Visual Effects tab of the Performance Options dialog box, click Adjust for best performance, or experiment by unchecking various animation and visual effects settings in the scrolling list box.
Launch Applications Fast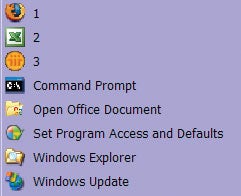 Use number keys to launch applications quickly through the Windows XP Start menu. Open Start, click All Programs (Programs in Classic Start menu mode), find one of your oft-used applications, and drag it to the top box of the Start menu. Before you let go of the mouse button, make sure the pointer is between two apps listed in that box (if there are any) so that a black line appears, and if you're using Classic mode, hold down the <Ctrl> key; now release the mouse button to place a shortcut to the program at the top of the Start menu. Let go of the <Ctrl> key, right-click the shortcut, and select Rename to add a number before its name (1 Firefox, 2 Excel, and so on, but don't use the same number twice). As a result of this trick, the next time you click the Start button (or press the <Windows> key) you can press a number key to launch the corresponding application. To remove a shortcut, simply right-click it and select Delete from this list (or Delete in Classic Start menu mode).
Shop Tech Products at Amazon