Page 2 of 10
All-in-One Utility Suites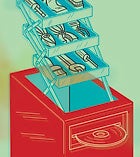 If you like to do one-stop shopping, all-in-one suites pack an assortment of tools--data recovery, security, privacy, troubleshooting, and more--onto one CD. Three of the four packages that we tested came with bootable emergency CDs for repairing a PC that won't start. Often these tools are conveniently organized in a single integrated interface.
We looked at four leading packages--Business Logic WinCleaner Complete PC Care, Iolo System Mechanic 5 Professional, Symantec Norton SystemWorks 2005 Premier, and V Communications SystemSuite 5. To rate these suites, we evaluated their features, ease of use, and ease of installation, and tried to detect any performance improvements. We did not test antivirus, spyware, and firewall tools. For more on those topics, read April's "Spyware Stoppers" feature and February's New Products review "Internet Security Suites Face Off".
Each suite has its strengths. We awarded the Best Buy to Norton SystemWorks for its high-quality tools and ease of use. System Mechanic did the best job of integrating its tools into one easy-to-use interface. Although SystemSuite, a former PC World Best Buy, hasn't been updated in over a year, it comes with useful diagnostic tools. WinCleaner's brightly colored interface was irritating, but the utility has a convenient one-click cleanup routine that you can launch from the CD.
If you're looking to use any of these packages to improve your system's performance, however, you'll probably be disappointed. Over time Windows accumulates hundreds of unnecessary files such as old application installers, temp files, and remnant Windows Registry entries. These files could, in theory, slow down your computer. To help counter this effect and to free up disk space, all four packages that we tested include tools that remove unneeded files and delete and repair Windows Registry entries. While using such programs can recover disk space, you aren't likely to see significant gains in performance.
The PC World Test Center used system monitoring tools to record exactly what the suites cleaned up on our test computer. We discovered that the packages are radically different in the type and number of files they remove. V Communications' SystemSuite and Symantec's Norton SystemWorks were at the most aggressive default settings; SystemWorks deleted more than 12,000 Registry entries, for example. On the other hand, Iolo's System Mechanic and Business Logic's WinCleaner Complete PC Care deleted files and Registry entries more conservatively. Whether a suite cleans up few or many files, however, predicting what effect--good or bad--that such a cleanup will have on your machine is difficult.
All four of the utility packages give you control--to different degrees--over the files they delete. Symantec, for example, allows you to indicate the degree of cleanup with SystemWorks' Norton Cleanup, CleanSweep, and WinDoctor utilities.
It's possible to accidentally clean up a file you need later on, so most of the suites have tools, such as SystemSuite's Undo It, that back up the deleted files and Registry entries so you can restore them later. These backups, however, are stored on your hard drive, limiting the amount of disk space you're clearing.
If your PC has slowed to a crawl or can't boot up, a suite might be a good last resort at reviving it, but keep your expectations low. You're better off picking a suite for its tool set rather than for any performance gains that it might give you.
Symantec Norton SystemWorks 2005 Premier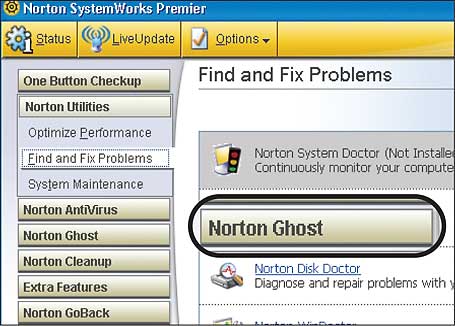 Despite being the priciest suite, Norton SystemWorks Premier 2005 earned our Best Buy award for its ease of use and the quality of its tools.
SystemWorks Premier 2005 adds the powerful Norton Ghost disk-mirroring utility for backup, recovery, and system disk upgrades. Other useful tools are GoBack for restoring your system to a previous healthy state, CheckIt for running system diagnostics, and System Optimizer for gathering Windows configuration controls under a single roof. Most notably, Symantec packages a handy PC recovery boot CD, which now supports the Windows NTFS file system.
But SystemWorks has a few rough edges. It's a bit of a space hog. Its modules can consume copious amounts of memory--a potential issue for machines equipped with minimal RAM. A review of running processes in the Windows Task Manager revealed that SystemWorks' components consumed more than 87MB of system memory. The installation routine is long and requires multiple reboots and program update downloads. And SystemWorks 2005 lacks a startup manager for controlling applications that launch with Windows. $100
Iolo System Mechanic 5 Professional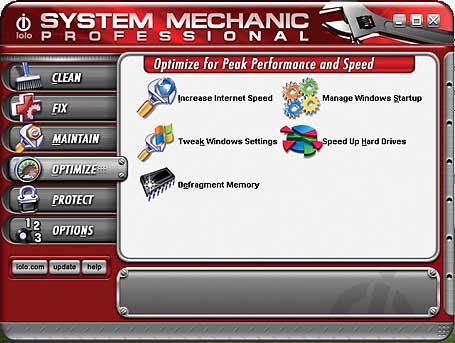 Iolo System Mechanic 5 Professional is the only utility suite we tested that neatly integrates all of its modules--cleanup, fix-up, maintenance, optimization, and data protection--in one window. The package's installation was quick and smooth; and in breadth of features, System Mechanic is second only to Norton SystemWorks 2005 Premier. The suite provides superior file-search and recovery tools--even permitting you to resurrect deleted e-mail messages from Eudora, Netscape, Outlook, and Outlook Express. System Mechanic does have one significant omission: It fails to provide system recovery tools on a bootable disc. $70
V Communications SystemSuite 5

V Communications SystemSuite 5 covers the basics of system diagnostics, system optimization, file repair, and file recovery. The former PC World Best Buy winner hasn't been updated since July 2003, however, and its age shows.
SystemSuite 5's interface is visually consistent, but its unintuitive top-level design can make specific functions difficult to find. The installer loads a handful of third-party applications onto your system before installing the main program. Some of the tools are impressive. Modules such as PCDiagnostics and SystemExplorer are useful for reviewing your system's configuration and for performing low-level tests. But the suite's rigid text-based displays are hard to slog through. An application mover module can not only shift installed programs from one folder to another on the PC, but also pack them up for transfer to a different system--a nice touch. SystemSuite's application disc also doubles as a bootable rescue CD with some limited disk and file functions.
V Communications says that the upcoming version of SystemSuite (available soon) will include a new installation routine, better hardware diagnostics, a revised program interface, and a better boot-disc interface. A new Professional version, which will be priced at about $70, will add system backup software and a pop-up blocker to the basic package. $60
Business Logic WinCleaner Complete PC Care

Wincleaner Complete PC Care has good tools, but it lacks some of the system diagnostics included in the other suites. The product also has a garish, unintuitive interface that makes finding and using some features difficult.
On the bright side (literally, it's orange), WinCleaner boasts a quick setup routine and a nicely organized top-level interface that makes it easy to zero in on components--something sorely lacking in other packages. Too bad this level of organization doesn't carry through to all the subcomponents. It's here that the interface falls apart. Many modules open in separate program windows that bear no thematic resemblance to the suite as a whole. There are other wrinkles, too. The WinReg Optimizer guides you into Registry tuning actions without warning you that a system reboot is required. (Business Logic says it is working to fix this.) Also, you should avoid defragmenting very large folders--if you try, WinFile Defragmenter drops suddenly into a lengthy prescan operation without giving you any way to cancel the routine.
The suite provides quick access to its WinSmart tool, useful for moving installed programs, and to a well-crafted startup manager. We also liked being able to launch the OneClick Cleanup routine directly from the CD without having to install the program. Though we weren't sold on the need for file and Registry cleaners, the detailed reporting of WinCleaner's tool is quite impressive. $70
Shop Tech Products at Amazon