Net Phone Zone: Shopping for the Best VoIP Service
Chatterboxes unite: If you're anything like me, your talk time is precious. It's not something you want to ration just because you're running out of minutes in your monthly calling plan. If you're tired of cutting short calls to friends and family, or paying overage fees, consider a Voice-over-IP service that offers an all-you-can-talk plan. Most VoIP companies offer plans with unlimited local, long distance, and in some cases international calling to a select number of countries, for a low, flat monthly fee of typically $20 and up. The call quality and reliability are generally impressive. (Emphasis on the word generally.)
Sure, the potential cash savings of switching to VoIP are great, but the sweetest deal on paper can turn sour when things don't go as you might expect. So to help you deal with the various ins and outs of VoIP services--and to avoid unpleasant surprises--I offer some advice on things to consider while you're shopping around. Even if you decide to hold on to your landline service as a backup phone line--a sensible move--lots of these tips will still apply.
Go Ahead, Haggle
Many cable company giants (such as Comcast, Cox Communications, and Time Warner) are trying to lure customers away from landline companies to sign up for VoIP service as part of a bundle that includes TV and phone service, or TV, phone service, and Internet access. You'll save some money by rolling multiple services into a single provider. For shopping advice and the lowdown on bundling options, see "One Stop for TV, Phone, and Internet."
If your cable provider offers phone service (often marketed as "digital voice" or "digital telephone"), see if the company can do better than the price advertised. The more services you sign up for, the greater your bargaining power. And it can't hurt to ask for a better deal--or for certain charges, such as activation fees, to be waived.
Pick Your Number, Part 1
When you register for VoIP service, one of the first things you'll sort out is your phone number. Companies such as AT&T, BroadVoice, Primus Telecommunications, Verizon, and Vonage allow you to transfer your existing phone number to their VoIP services, as long as your particular area code is available on their magic list.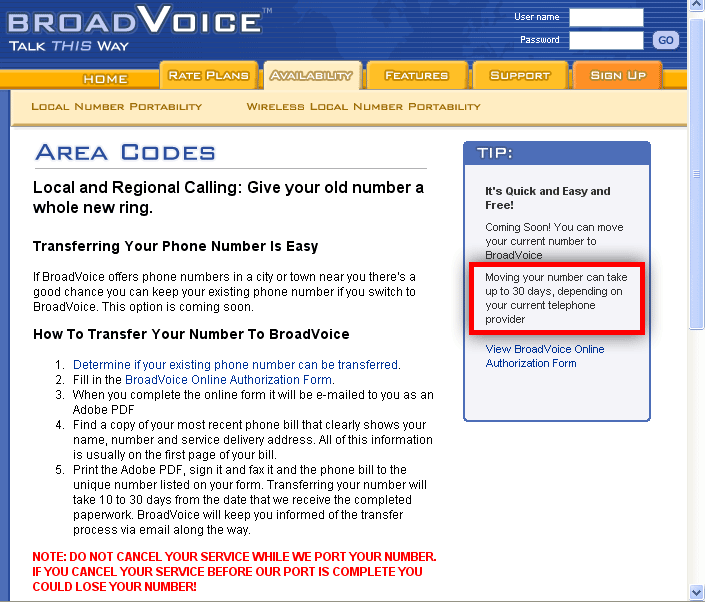 In the case of BroadVoice, for example, you must complete a form authorizing BroadVoice to carry over your phone number. You then fax this form (yes, fax) to BroadVoice, and in 10 to 30 days your number will be transferred over. The company gives you a temporary phone number, but still, that's a little messy. BroadVoice reports that by the end of May 2005, it expects to offer numbers from about 4000 locations in 47 states.
If you want to go the number transfer route, of course, it means that you're about to dump your landline company. On the plus side, you're saved the bother of giving everyone you know your new telephone number. But think carefully about this one. Most of us have heard stories about number portability hassles in the cell-phone world as people switch from one wireless provider to another. This transition isn't always going to be smooth in the VoIP realm, either. If retaining your phone number is important to you, push the (prospective) provider on telling you exactly when you can expect your number to move over and be ready to use.
Pick Your Number, Part 2
Unlike a traditional landline phone number, which is tied to a physical location, a VoIP number is "virtual," so to speak, and you can pick any area code you want from the companies' lists. So if you're a transplant from Portland, Maine, soaking up the rays in San Diego, but feeling nostalgic for home, you can keep your 207 area code and number, or adopt a 619 area code for San Diego, or pick something else completely random. It's your call (no pun intended).
Just remember that your decision will affect the people who call you. For example, if you stick with a 207 number, your family and friends back home in Portland will be making a local call, even though you're on the other side of the country. They'll be happy with that arrangement. But your new neighbors in San Diego will have to make a long-distance call every time they want to invite you next door--or to tell you to quit talking on the phone so loudly.
So before you go wild and pick a 212 area code for Manhattan, even though you live in Juneau, Alaska, consider the implications for the folks who are likely to be calling you.
Pick Your Number, Part 3
Many VoIP services (including BroadVoice, Packet8, and Vonage) let you sign up for secondary numbers. These additional virtual numbers can include toll-free numbers and international phone numbers. The toll-free option is especially handy for businesses that want to make it easy for customers to call them; it's also convenient for family and friends. Similarly, if you live in Los Angeles but have clients or relatives in Canada or the UK, you can set up a local number for them to use; you pick up the tab at your end.
For example, say you sign up for Packet8's $20-a-month plan, with unlimited calls to U.S. and Canadian numbers. Its toll-free-number option will cost you an extra $5 per month for up to 100 minutes of inbound calls; once you log more than 100 minutes of incoming calls, you're charged 4.5 cents per minute, along with a one-time $10 activation fee.
Before you sign up for a secondary number, ask yourself whether your callers will use it regularly enough to make it worthwhile. And keep in mind that the more services you pile onto your plan, the more taxes you'll pay.
Note: Compared to landline and cell phone providers, VoIP companies are not subject to regulation in the same way that traditional phone companies are (at least for now). As a result, they do not tack on hefty surcharges or state-driven fees. However, on top of your monthly costs, VoIP companies typically add a 3-percent Federal Excise Tax charge and a $1.50 regulatory recovery fee.
Know Your Hardware
In most cases, after you sign up for a VoIP service, your provider will send you an analog telephony adapter (or an adapter/router combo)--a device that you connect to your modem or router and a standard phone handset. Sometimes the provider will send a technician to your home or office to set up the equipment. Either way, find out ahead of time if you have a choice of hardware or just one option, and whether or not you have to pay for it.
If you already have a router, you may not need a combo adapter/router unit; you might just want to install a regular adapter. Whatever the hardware, ask for the model name and it through your favorite search engine to see if there are any known reliability problems. Companies like Cisco, Linksys, and Motorola make these boxes, but some VoIP providers manufacture their own hardware.
Finally, you should also ask whether your new hardware comes with any special features, such as an indicator light when you have a voice message (a nice time-saver) or more than one port.
And coming soon: Wi-Fi phones that are supposed to work with existing plans. These wireless phones are designed to go with you from place to place--that is, from hot spot to hot spot.
Is faxing your thing? If you need to send and receive faxes, and you're not going to keep a dedicated phone line for this duty, make sure that the provider you choose offers this capability. Some companies, like BroadVoice, do not. Others let you fax, but not without some hassle. For example, with Verizon's VoiceWing plan setting up the fax function involves moving a few cords around: You unplug your phone from one of the ports on its Linksys PAP2 Phone Adapter and then connect your fax machine to the same port. So while you're whisking off a fax, you can't make a call, nor can you receive one. This setup is fine if you send faxes infrequently, but if you send several faxes a day, you might want to consider a second VoIP line.
Find Out About Extra Fees
The flat monthly fee is where your VoIP service starts. But it isn't where things end, by any means.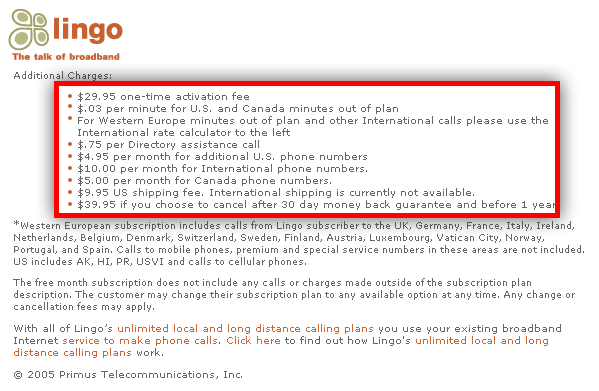 In some cases you will have to pay for your adapter, and if you want one of the new Wi-Fi phones they'll typically cost you $100 or more. In addition, expect to pay shipping costs for the hardware, activation fees, monthly taxes, extra charges for 411 service (often 75 cents per query) and Enhanced 911 emergency service, extra charges to call cell phone numbers overseas, and disconnection fees if you cancel your service. You'll also be charged a per-minute rate if you go over your allotted number of minutes, but this depends on your plan's restrictions.
For more details about what's lurking behind VoIP plans, read "The Hidden Costs of Cheap Phone Service." All the companies I looked at do a fairly good job of posting details about their plans and litany of fees. Granted, some of these details are presented in fine print towards the end of their main Web pages, and you have to scroll down to get the scoop. Other companies describe their fees in excruciating detail in their Terms and Conditions (or similarly named) pages.
Be Prepared for the Worst
VoIP providers often do not offer access to 911 emergency service. For many people, this fact alone is enough to make them keep their landline service. If you don't want to keep your landline, find out what kind of access to emergency service the provider supports, and ask what you need to do to enable the service. Some VoIP companies offer a limited emergency response service, but you need to fill out a Web-based form to register your number along with your address to activate it.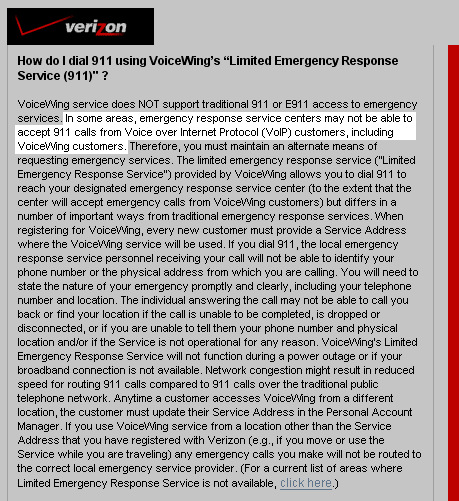 If your provider doesn't support Enhanced 911, when you dial 911 on a VoIP phone today, the dispatcher at the other end does not know where you're located. You may end up wasting precious seconds relaying that information--a frightening thought. A handful of VoIP companies are now offering E911. This service gets around the shortcomings and mimics the 911 system used by regular telephone companies. Packet8 offers E911 as a premium service: It costs $1.50 a month plus $10 to activate it. Vonage recently rolled out a trial service in Rhode Island.
The whole 911 situation is one of the biggest controversies going on at the industry level currently.
Test Tech Support
Imperfect service is a fact of life with VoIP. Expect occasionally funky call quality, echoes, and clipped sentences here and there. Sometimes a series of calls may not go through. You'd like to know that the company behind the service is around in your hour of need. So before you hand over your credit card info, test responsiveness by calling the tech support number and by sending an e-mail. Visit BroadbandReports.com for reviews of VoIP services.
Ask About the Cancellation Policy
Most VoIP companies offer a money-back guarantee. You generally have between 14 and 30 days to make up your mind; but if you miss the window, you may have to pay a deactivation fee and return shipping on the hardware.
If you want to cancel service with BroadVoice, for instance, you must send back the adapter within 14 days, pay shipping, and cancel the service within 30 days. You must also make sure that you don't go over 500 minutes of calling time during that first month. If you cancel after 30 days, you're charged $50 plus return shipping.
Additional Resources
For more information on how to evaluate VoIP services, see "Is an Internet Phone Right For You?."
For tips on how to ease the transition between landline and Internet phone service, check out "Surviving VoIP."
And for some VoIP video action, starring our very own Stephen Manes and USAToday.com columnist Angela Gunn, watch PC World's Digital Duo.