Is using an empty baked-bean can to grab a Wi-Fi signal from a mile away high technology? The answer is yes if you're an entrant in Intel's International Science and Engineering Fair being held this week in Phoenix.

Steven Buss, an 18-year-old Wi-Fi buff from Palm City, Florida, built three different types of antennas to see which provided the greatest range for his wireless network. The best performer, made from a "biquad" antenna and a used DirectTV satellite dish bought on EBay, picked up the wireless signal 1.3 miles away.
But the cheapest and easiest, the one he calls a "cantenna," made from an empty baked-bean can, let him connect to his 802.11b wireless network from almost as far--a mile away.
Buss ran his experiments using an IBM ThinkPad on a long, straight Florida road to avoid obstacles that can block a wireless signal.
Cold Call
Tired of getting into a cold car before work in the middle of winter? Marc Ingram's new invention lets you literally phone your car, punch in a six-digit password, and start warming up the auto while you finish breakfast.
The high school senior from Louisville, Kentucky, says the device he calls the AutoAttendant is a regular cell phone with a "big boosted antenna," so your car would have its very own phone number. The phone connects to the same type of automated voice router that businesses use.
That call router connects into the car's controls with a variety of wires, Ingram says. But you also could connect those wires to a home appliance, for example. Are you a worrywart traveler? Call home, press 4, and turn off the stove.
Point It Out
Chris Messick, a sophomore in Monte Vista, Colorado, says he got his project idea after his aunt's wayward mouse "clicked wrong" and wiped out some precious database work.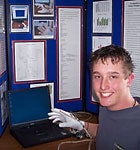 So he wired up a white leather golf glove with fingertip sensors and cabled it into his Windows XP desktop. Now when he moves his index finger, the cursor follows.
"To click, you can touch any one of your other fingers to your thumb," he says. "The middle finger is a left-click, the ring finger is a right-click, and the pinky activates and deactivates the pointer" for uninterrupted typing.
Gamers take note: Chris says being able to give mouse commands without having to move your hand from the keyboard to the mouse could "give you a little bit of an edge."
All three are competing with 1300 other young scientists from around the world at this week's Intel International Science and Engineering Fair.
The science fair, which ends May 14, will award $3 million in college scholarships, computers, internships, and other prizes as individual and team awards. Three finalists will walk away with scholarships worth $50,000.
Ingram and Messick say they are both working on obtaining patents, an expensive process that Ingram says may cost him over $10,000. They both plan to fine-tune their inventions, hoping to get them to the marketplace.