Page 2 of 8
Trend Buzz, Reality TV, and more...
Go Back in Time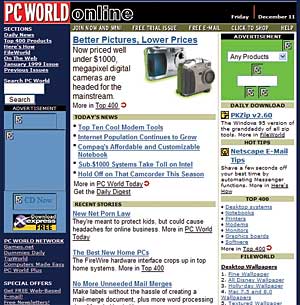 Wonder what Yahoo looked like during the dot-com boom? Dial up the Wayback Machine, and you can view cached copies of popular Web sites dating back to 1996. For quick nostalgia trips, add a Wayback bookmarklet to your Firefox or Opera toolbar or Internet Explorer favorites; clicking the button will call up the archive of the site you're viewing.
Give Google a Face-Lift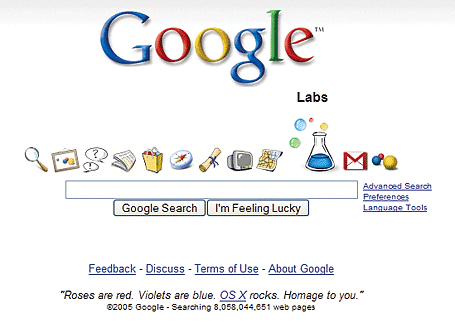 Google offers more than a dozen services, but most are hidden. The GoogleX interface makes all of Google's goodies--such as Gmail, Froogle, Maps, and more--accessible via a nifty Mac OS X-like toolbar. Originally designed by a Google researcher, the toolbar disappeared shortly after being posted on the Google Labs site (most likely due to objections by Apple), but not before some plucky Netizens saved a copy for your use.
Catch the Early Buzz on Trends
Want to find out what the bloggers are talking about before it hits the mainstream? Just sign up for PubSub and plug in your search terms. This site crawls more than 9 million blogs, public relations newswires, and SEC filings for relevant entries, and then e-mails you the results. You can also install a sidebar applet inside IE or Firefox and view the results interactively.
Back Up and Share Music and Videos
Using Streamload, you can upload gigabytes of music and video files (as well as Word docs, Web pages, presentations, and more) and share them with any other Streamload user you choose (provided you have the legal right to use the material, of course). You or your friends can stream or download media files to any computer, so you can watch your home videos even when you are far from home. A free Streamload account comes with 10GB of storage and 100MB of downloads per month; accounts with unlimited storage and from 1GB to 60GB of downloads range from $5 to $40 per month.
Check Your Inbox From Anywhere
You say your ISP doesn't offer a Web interface for your e-mail inbox? Don't fret. With Mail2Web you can access any POP3 or IMAP4 account, read and respond to messages, and attach up to 10MB of files from any Web-connected computer. And don't worry, your mail will still be there ready to download when you get back to the office.
Find Uncle Sam's Hidden Files
Hear that big sucking sound? It's thousands of documents disappearing from government Web pages--some removed due to national security concerns, and others for political reasons. But at sites like the Federation of American Scientists' Project on Government Secrecy, The Memory Hole, and Cryptome, you can find some of these missing files, along with other declassified but hard-to-find documents.
Create Your Own Reality TV Show
Why should Paris Hilton and Donald Trump get all the glory? On ManiaTV you can submit your own 5-minute video clip; if it's picked, the site will devote an hour of programming to a video of your life. You can also send in clips from your mobile phone, or program an hour-long "mixtape" of your favorite video clips for broadcast online. This self-styled MTV (without the TV) claims 1 million unique visitors a month.
Travel by Kayak
That's "Kayak" as in Kayak.com--a cool metasearch site that works like an in-house travel agency. A Google-like home page searches for flights, hotels, and cars from more than 100 different travel sites. Unique slider bars let you filter flights by time or price range; you can view all available airlines, airports, and hotel chains, or winnow down to just your favorites.
Tell the Truth in Secret
Maybe your boss has bad breath, or a close friend is in serious need of an ego trim. You can slip them a word in secret using Sharpmail's anonymous e-mailer. You can send your message in plain text or HTML, or you can send an SMS message to someone's cell phone. (But don't even think about sending abusive or spammish mail, or Sharpmail will pull your free account.) Who knows? Maybe you'll receive an anonymous message taking you to task for your passive-aggressive e-mail tendencies.
Blog at Light Speed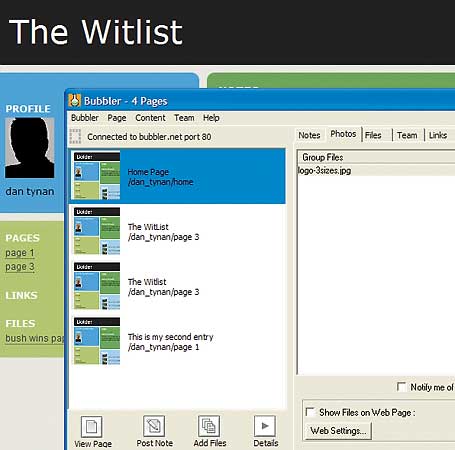 When you have something to say right away, let Bubbler be your mouthpiece. This convenient blogging tool resides on your desktop, enabling you to post entries, publish images, and share files with just a few mouse clicks--no wading through multiple log-on windows or dealing with kludgy posting tools. Bubbler will host a simple text blog with 1MB of storage for free; paid options that allow you more storage space range from 10MB ($5 a month) to 4GB ($100 a month).