Page 3 of 8
Free Tech Help, Parenting Skills, and more...
Get Tech Help for Free
If Windows is having another bad hair day, but you're unwilling to spend $35 to be aggravated by Microsoft support, the Tech Support Guy can help. Post your question to the site's two dozen forums or search more than 300,000 threads to find an answer. It's not as fast as a call to tech support, but it can be more fruitful and less frustrating.
Hone Your Parenting Skills
Are your children driving you up the wall? For $30 a month, About My Kids provides unlimited access to a personal parenting coach to answer your questions. You can talk with a coach via phone, e-mail, or live chat about your kids, whether they're toddlers or teens. So the next time your 15-year-old comes home with a scary piercing--or a scarier date--you'll know whom to call.
Increase Your Web Site's IQ
You tackle some meaty topics on your Web site. Now how are you going to explain all those arcane terms for the newbies? Answers.com provides a way to add definitions for any term. For example, to define the acronym "XML," add the link www.answers.com/xml whenever "XML" appears on your page. Simple, easy, and free.
Become an E-Marketing Mogul
For as little as $15 a month, Constant Contact makes it a snap to create HTML-formatted e-mail newsletters, sign up visitors to your Web site, manage subscriber lists, find out who reads what you're sending out, and identify your most successful marketing campaigns. But don't even consider using it to send spam--Constant Contact monitors outgoing messages and will terminate your account at the first sign that you're abusing the service.
Never Take Another Boring Business Trip
Why take your dog-and-pony show on the road when you can hold it on the Web? At GoToMeeting you can display your slides, host live demos, or collaborate on documents while gabbing on the phone. GoToMeeting costs $50 a month for unlimited meetings of up to ten participants--a fraction of the cost of other online conferencing services, and a lot cheaper than a cross-country plane ticket. An even cheaper option is Microsoft's free (if ancient) NetMeeting client, which lets you collaborate with other NetMeeting users. It's not installed in XP by default, so you'll have to search for "netmeeting" in XP's Help and Support and run a wizard to install it.
Compare Cell Plans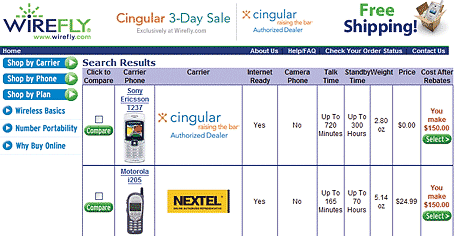 Are you tied up in knots trying to unravel dozens of mobile phone plans? WireFly can untangle the mess. Just type in your zip code to search by carrier, phone, or plan. You can then sort your options by price, minutes, and type of coverage, and compare the plans in a side-by-side view. Charts include J.D. Power ratings for customer care and service plans, as well as WireFly's own rating of each carrier's market coverage.
Follow Your Money
If you've ever wondered where all your money goes, now you can find out. Where's George literally tracks your dollars using the serial numbers on each bill. Whoever receives your greenbacks will have to log on to the site for you to track the dough, so you might want to write the URL on your bucks before you fork them over.
Unmask Spoofed Web Sites
That Web site may look just like your bank's, but is it really? Find out by downloading Corestreet's free Spoofstick applet. It displays the real domain of the site in your browser toolbar, regardless of what the address window says--an invaluable tool for fighting phishers. The toolbar is available for both IE 6.x and Firefox 1.x.
Disinfect Your PC
Is your antivirus software on the fritz? Don't despair, just stop by Panda Software's site for a free system scan. You'll have to download an applet, surrender your e-mail address, and use Internet Explorer (the scanner requires ActiveX). Panda detects and disinfects most forms of malware, and will alert you to (but won't fix) spyware infestations.
Design Your Own Business Cards
Forget about schlepping down to Kinko's to order business cards. At IPrint you just choose a card template and start filling in text. You can pick fonts, colors, graphics, and paper, preview your work, and place an order with a few clicks. A box of 250 is $18 and up; you can also get matching letterhead, envelopes, labels, coffee mugs, and more.
Become a T-Shirt Titan
Want a quick and easy way to promote your business? CafePress will put your corporate logo on T-shirts, caps, coffee mugs, mouse pads, and more. You can give the items away to customers or sell them directly from a CafePress-powered page on your site. The site handles everything from production to payment, and then gives you a cut of each sale.