Page 4 of 8
Charter Jet, Get Surreal, and more...
Charter a Private Jet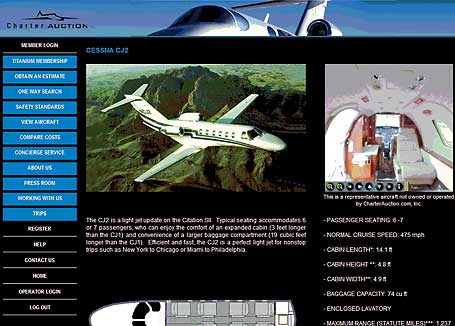 So you struck it rich selling Furbies on EBay and now you want to travel in style. At Jets International, you can rent a private jet starting at $2100 an hour. Plug in your departure and arrival information, and private jet owners will bid for your business. (You'll have to put $100,000 in an escrow account before you can book a flight.) A typical round trip from New York to San Francisco runs about $30,000. Pricey, but a great way to impress prospective clients.
Shop for the Best Advertising Venue
Advertising on the Web doesn't have to be complicated. Adbrite makes buying banner ads as easy as shopping at Amazon.com. Just pick a site where you want your ad to appear, and add it to your shopping cart. Prices range from 1 cent per click to $6000 for a week-long text ad campaign, depending on the site you're targeting. You can also sell ad space on your site to others; Adbrite takes 25 percent of the cut.
Hire a Nag
There was something I wanted to tell you...now, what was it again? Oh, yeah--it was about RemindMe.com. This nifty service pops up a window on your computer for those crucial events (birthdays, anniversaries, tee times) when relying on a personal organizer just isn't enough. The stand-alone package costs $25, but a free (ad-supported) e-mail version should be available by the time you read this.
Become a Blog Snob
It doesn't matter how brilliant your blog is if your mom is your only reader. Get the word out with Pheedo's Blogsnob. Simply add a small piece of JavaScript code to your blog template and create a pithy, one-sentence ad that will appear on other blogs in Pheedo's network. The service works with blogs created in Blogger and TypePad (but not LiveJournal).
Get Surreal
Is your Web site a tad, well, dull? Ravenblack's random surrealism generator will spark it right up. Just copy the site's free HTML code to your home page template. Each time your page loads, it will display a different Dali-esque comment ("A saucepan a day keeps the banana away"). Words to live by.
Take Your Business to the Next Level
Your small business could be the next Amazon.com--if you don't get lost in the business jungle first. Let StartupNation be your guide. Budding entrepreneurs can find reams of free advice, success stories, online seminars, and more from radio hosts and small-business consultants Rich and Jeff Sloan. You can also buy business plan software, obtain insurance, and hire a branding consultant.
Make High School Cool
Do your teens need to take courses that their local school doesn't offer? Enroll them at either the Virtual High School or the Florida Virtual School. Your child can take a single course or a series of them across a wide range of topics. These fully accredited learning institutions educate thousands of students nationwide, but in order for your children to get class credit on their transcripts, they will need to sign up through their high school.
Clean Out Your Garage (and Fill It Back Up)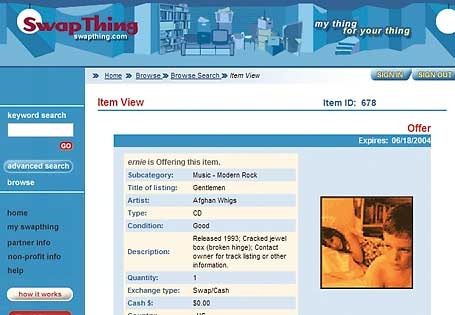 Got boxes of old LPs or baseball cards you don't know what to do with? Swap 'em for something you like better at SwapThing. You can swap items such as music, art, trading cards, and old schoolbooks, or offer them for sale. You can list items for free; the site charges each party a buck for every item swapped or sold. It's easier and cheaper than auctioning them on EBay.
Hire a Virtual Office Manager
Running a small business means having to know a little bit about everything. Need to whip up a marketing plan or write a human resources manual? SmartOnline provides the know-how and the tools. You can purchase a passel of bread-and-butter business services for $30 a month or order them &#224 la carte. The site also offers a handful of free tools, such as an online calendar, address book, and currency converter.
Download Tunes While You Drive
You're in your car and a great song comes on the radio, but by the time you get home you've totally forgotten the band's name. With Music On Command you can buy the tune instantly. Just dial a toll-free number and punch in the station's call letters; the site sends an e-mail or SMS with a link to a store where you can download the song. At press time the service was still in beta testing, and songs were available through Buy.com for $1 apiece. The service covers more than 1200 radio stations in North America; support for Sirius and XM satellite radio is in the works.
Publish Your Masterpiece
So you've completed your 1000-page opus but can't find a publisher? Do it yourself on Lulu.com. Unlike most self-publishing sites, Lulu charges no up-front fees and requires no minimum orders. Just upload a word processing document and follow a wizard to choose the book's size, format, cover art, and price or commission. Lulu takes 20 percent of the cover price. You can sell your book via Lulu, Amazon.com, Barnes & Noble, or your own Web site. If you order copies for yourself, you pay only binding and printing costs--around $8.50 for a standard 200-page paperback.
Find Out How Much Time You Have Left
We all have to go sometime--and the DeathClock purports to tell you precisely when. Just plug in your birth date, gender, height, and weight; the site predicts the day of your demise based on average life expectancy, and even displays a ticker that counts down to the big day in seconds.