Page 6 of 8
Web APIs: Make the Big Sites Work for You

Amazon and Google are more than just Web sites--they're gigantic collections of useful data. The application programming interfaces (APIs) that access that data have enabled developers to build other amazing sites, and you can too if you're willing to hack a little code.
Amazon.com has more than 80,000 developers who use its API to build online shopping malls, as well as sites like Live Plasma, where you can search on a musician and view a groovy map showing related artists.
"We invite developers to be creative and innovative," says Amazon Web services evangelist Jeff Barr, "to take our data and do fun things with it."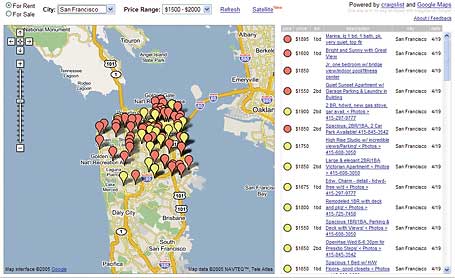 It's not just Amazon. Dreamworks animator Paul Rademacher has combined data from Google Maps and Craigslist to create an interactive map that lets you find housing in markets across the country. FlickrPaper employs Flickr's API to let users build desktop wallpaper from Flickr's shared photo collection. First Floor Software used a Yahoo API to create an image search engine that displays results as a slide show. The Send to Smug Mug plug-in enables users of Smugmug.com to send pics directly to the digital photography site by right-clicking an image inside Windows Explorer. And that's just a tiny sample of what's available.
To take advantage of a site's API, you need some knowledge of common Web programming tools. Google's downloadable API kit contains a manual on how to use it, along with sample Java and .Net code. Flickr provides a wealth of APIs, as well as code samples. You'll find documentation and more for Amazon's APIs here; Yahoo's is here.
Even if you're not a code jockey, you can add Google or Amazon to your site. Simply copy a dozen lines of HTML code to add a Google search box to your home page. Selling Amazon products on your site for up to a 10 percent commission is nearly as easy. You'll have to sign up for the Amazon Associates program and copy some code to your home page. Then just wait for the money to roll in.