Page 2 of 2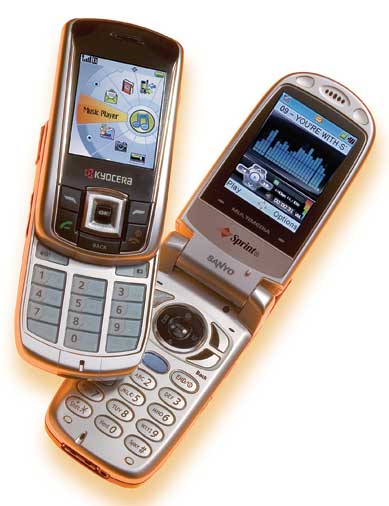 J-Lo and Usher Are on the Phone
Both the Kyocera Slider Remix KX5 and the Sanyo MM 5600 try to free you from having to carry separately a cell phone and an MP3 player. Both phones will play MP3 and AAC music files. If Sprint is your carrier and you have an MM 5600, you can hear streamed music over the Mspot radio and video service.
These phones won't satisfy a music fan who wants hundreds of tunes on hand at all times. Neither the Kyocera, which will not be available until late August and hasn't been priced yet, nor the Sanyo ($430 from Sprint) has onboard memory for music. Instead, each includes a micro-SD Card slot through which you can add up to 512MB of tracks, enough for about 8.5 hours of music encoded at 128 kbps.
The sound quality of both phones was surprisingly good. But for best results, you'll need headphones equipped with a jack even smaller than the one used for most portable audio players (or you'll need a converter jack). I was sorely disappointed by the $6-per-month Mspot service, which I tested over the Sprint network in the San Francisco Bay Area. Regrettably, service cut in and out, and the sound quality was atrocious.
--Edward N. Albro
Shop Tech Products at Amazon